Greeks fighting austerity trap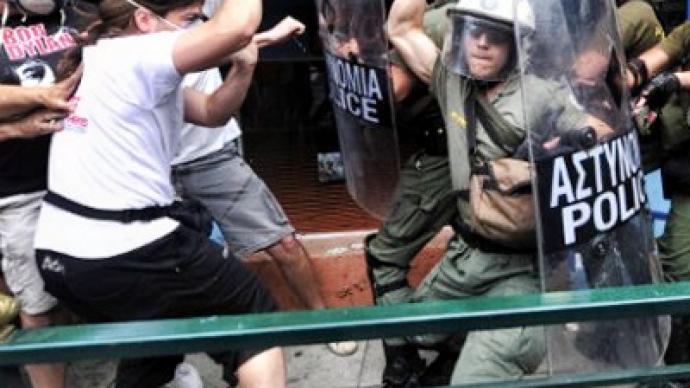 Greece will officially tighten its belt even further after the parliament voted for massive new austerity cuts required for a new EU-backed transaction of 12 billion euros.
The prime minister's budget has received 155 votes from the 300-seat legislature – enough for the plan to be passed.The cuts are believed to lead to massive bailouts and, according to the unions, to a further deterioration of the situation with employment in the country. Thousands of people have been protesting against the new austerity measures since Tuesday. About 100 people have been injured in clashes with the police, who used tear gas to disperse protesters, trying to prevent them from breaking into the parliament building in Athens. Some 500 are reported to have suffered from tear gas.Clashes continued On Thursday night. Dozens of police and protestors were injured, while more than 40 demonstartors were detained.The protesting Greeks do not want to pay the debt, which they say they did not create, says Despina Koutsoumba from the country's Civil Servants Trade Union, who is with the demonstrators in Athens."Capitalists want the employees and the working class to pay for this crisis. We say 'no'. We say 'tax the rich people'. We say 'don't sell anything this country owns'. The public debt they say we have to pay is not our debt! We didn't decide on it. We didn't ask for it!" she told RT.The bill will leave Greeks impoverished and put the sovereignty of Greece itself under question, the activist believes. When parliament votes for it, the ruling party will be out of power after the next election, she promised."They are trying not to hear us. The Socialist Party that governs now has lost everyone who voted for [them]. They said one thing before the election and they do other things now. They are leading our country to a catastrophe and it is something we will not tolerate! It's a matter of life or death for the people of my country!" she said.
Demetri Kofinas, a financial journalist who took part in protests, says that the parliament's vote does not change the situation radically."It is only getting worse. People are getting angry. The violence is so bad here, that it is possible for someone to get seriously hurt or something worse," he said.
You can share this story on social media: