Greek bank employees hit streets in protest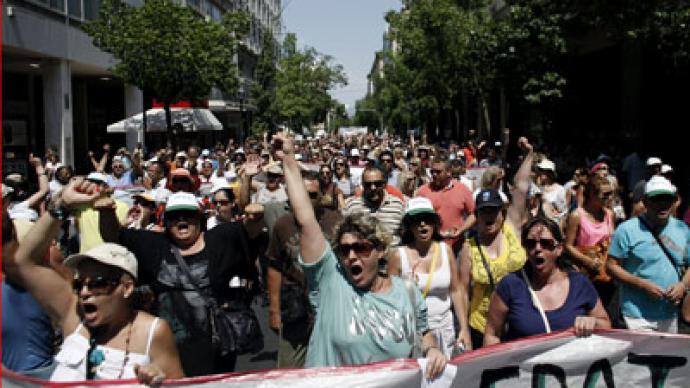 Protesters turned out in the streets of Greece on Friday, in one of the largest demonstrations the country has seen in weeks. Some 1,000 employees of ATEBank and Hellenic Post Bank shut down main roads in downtown Athens.
The protest comes during a five-day strike by over 5,000 employees of the formerly state-owned Agricultural Bank of Greece (ATEBank). Workers are protesting a government decision to sell the institution to the privately owned Pireaus Bank. The deal, which is worth an estimated 95 million Euros, will see the bank's assets divided, and its profitable parts sold to Pireaus Bank. Non-performing loans and other loss-making assets will be kept under state management.
The Central Bank of Greece announced the deal last Friday. It was also rumored that the Greek government will sell the Hellenic Post Bank, sparking worry among employees over their future in the debt-saddled nation.
"We all have degrees, but this doesn't count for anything in Greece. In Greece, is no growth at the moment," Hellenic Post Bank employee Andreas Sklayenas told AP.  Greek banks have been under growing pressure to merge since the start of the financial crisis in 2009.