Rescuers search for crew of sunken Russian gold ore cargo ship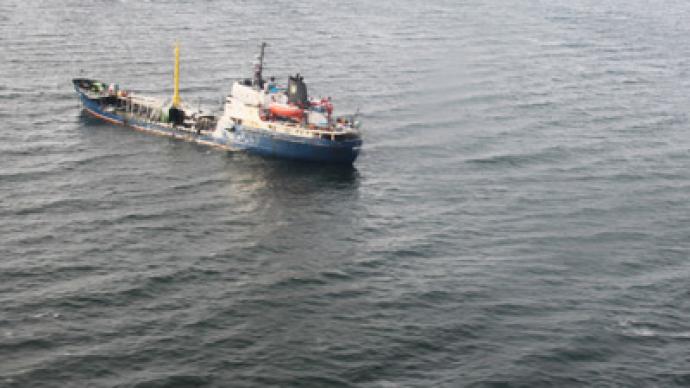 Rescue teams are continuing to sweep the area where a cargo ship carrying around 700 tons of gold ore sank last month. The ship was found by scuba divers in the Okhotsk Sea in Russia's Far East.
Scuba divers discovered the wreck of the Amurskaya freighter lying on its port side on the seabed some 25 meters deep. The rescuers did not find lifeboats or the bodies of crewmembers, indicating that the ship's crew may have escaped before it sank.
Rescuers will now focus on searching for possible survivors, sweeping the Okhotsk Sea and its coastline.
The decision to shift focus was prompted by the extreme difficulty of exploring the vessel. "The freighter has narrow corridors and ladders. Going inside her is very dangerous," a rescuer involved in the operation told Interfax news agency.
The danger comes from strong currents in the area, which leave divers with only a short window of opportunity during the change of the tide to enter the sunken vessel. Rescuers decided that searching the wreck was not worth the risk, and suspended underwater operations.
The cargo, estimated to be worth $230,000, is similarly difficult to recover.
Meanwhile, a city court in Komsomolsk-on-Amur postponed its hearing to decide whether to jail the owner of Amurskaya. Aleksandr Shiltsin is suspected of criminal negligence that resulted in the deaths of several people, but the charge may be substituted with a less serious one if the crewmembers are found alive.
Investigators said Shiltsin authorized the ship for its ill-fated voyage despite bad weather and reported violations during the hauling of its cargo on board that eventually resulted in the wreck.
Amurskaya sent a distress signal on October 28 as the ship traveled across the Okhotsk Sea, carrying the precious ore from Polymetal International PLC's Avlayakan mine to the Hakanja processing plant.
An air patrol dispatched to the area found a large oil spill, and a nearby vessel discovered a large object in the seabed. Rescuers with specialized equipment arrived at the scene Wednesday and identified the object as the missing freighter.
You can share this story on social media: