UK lobbying EU to allow new GM crops despite public skepticism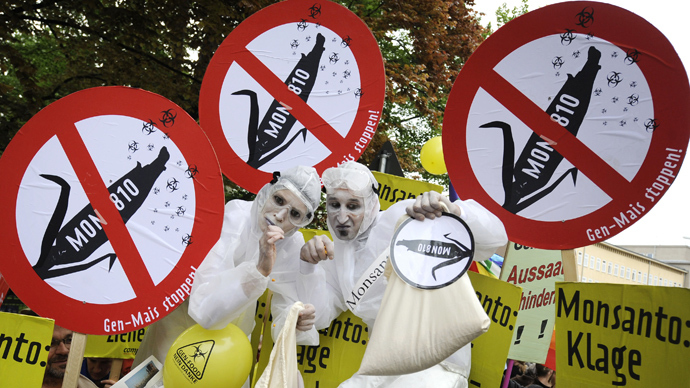 The UK is stepping up its campaign to bring large-scale farming of genetically-modified crops into Europe, with Environment Secretary Owen Paterson expected to become the second senior official in recent days to ask the EU to loosen existing controls.
In the thrust of the speech that has been leaked to the Independent, the Conservative minister is expected to say that Britain risks being "left behind" if it fails to adopt increasingly widespread GM crops.

"What we want to do is start a dialogue within Europe on GM based upon the science," a senior source told the newspaper.

"The point about GM is not simply about food production. There are wider potential environmental and economic benefits to the technology both in the UK and internationally."

Specifically, Paterson will argue that bioengineering could be used to create disease-resistant wildlife and develop new pharmaceuticals.

The speech appears to be part of a concerted government campaign to overturn the EU's strict reluctance to issue commercial licenses for GM crops, following a similar statement made by Science Minister David Willetts on Tuesday.

"We believe that GM crops can help make agriculture more efficient and also just as importantly more sustainable, by, for example, reducing the use of pesticides and the use of fossil fuels," he said.

"There are just too many 21st-Century technologies that Europe is just being very slow to adopt… one productive way forward is to have this discussion as part of a wider need for Europe to remain innovative rather than a museum of 20th century technology."



Currently, each genetically-modified crop has to be authorized by an EU commission. As of now, Monsanto's MON810 maize and BASF's Amflora potato are the only two plants permitted for commercial cultivation in the bloc.

Despite a large Europe-wide scientific report in 2010 concluding that bioengineered food poses no special hazard, eight EU member states have also banned the cultivation of genetically-modified crops altogether, with Italy expected to become the ninth.

Less than 0.2 per cent of all food grown in Europe is genetically-modified, while 12 percent of all arable land around the world is planted with GM seeds.

While previously low demand from consumers and farmers were cited as reasons for avoiding scientifically-engineered varieties, ministers are likely to use a just-published poll of 600 British farmers, 61 percent of whom say they would like to plant GM seeds.

"Farmers are becoming more and more aware that climate change doesn't mean a gradual rise in temperatures but rather a stream of extreme weather events. GM technology is one possible way of mitigating this," said Martin Haworth, director of policy at the National Farmers Union.

But the public remains skeptical.

A YouGov poll released Wednesday shows that only 21 per cent of Britons are in favor of growing GM crops, with 35 per cent explicitly opposed to the technology.

An estimated two million people, many of them in Europe, turned out for global anti-GM protests last month.

Producers of bioengineered foods, which are often made by manipulating the DNA of plants and introducing foreign organisms into it, say that they increase yields, better resist disease, and decrease the need for pesticides.

Opponents claim that they pose health risks and contaminate the environment. They also believe that patents on prominent GM crops give excessive power to corporations that develop them, primarily market leader Monsanto.

You can share this story on social media: