Girafficide: Second healthy giraffe named Marius may be slaughtered in Denmark
A second Danish zoo has said it may have to kill one of its healthy male giraffes just four days after a Copenhagen zoo publically slaughtered and skinned its 18-months-old Marius despite international outrage and offers to rehome the animal.
Jyllands Park Zoo in western Denmark said that it might have to put down its seven-year-old giraffe – whose name, by coincidence, is also Marius – since his genes make him unsuitable for breeding. The zoo also has a younger male called Elmer, and plans to acquire a female to eventually mate them.
"We can't keep [Marius] if we get a female, because then we would have two males that would fight with each other," zoo keeper Janni Loejtved Poulsen told AFP on Thursday.
Unluckily for Marius, he is a hybrid and is less of a priority for breeders because his genes are already represented in the European Endangered Species Program (EEP), which the Jyllands Park joined about a year ago. Elmer, a purebred male that arrived at the zoo last April, is considered a higher priority by the EEP.
"We have received one male giraffe that is highly ranked genetically, and it's up to the breeding coordinator when they have another purebred giraffe for us," Poulsen said.
Marius's fate will depend on whether the European organization manages to find him a new home, but chances are not very high.
"If the breeding program coordinator decides that he should be put down, then that's what we'll do," Poulsen said.
She added that Danish zoos have been killing animals for many years and that the wave of public outcry that followed Sunday's killing of the giraffe in Copenhagen would not deter Jyllands Park.
"Many places abroad where they do not do this, the animals live under poor conditions, and they are not allowed to breed either. We don't think that's OK," Reuters reported Poulsen as saying.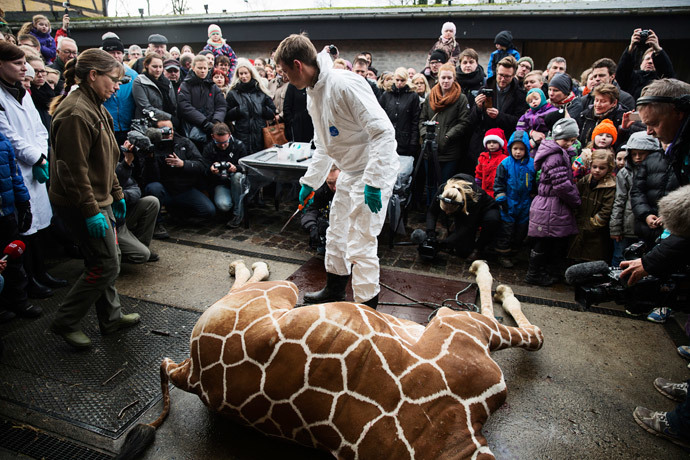 The slaughtering of the young giraffe at the Copenhagen zoo grabbed media headlines worldwide – also raising questions about animal rights, as well as the purpose that zoos serve. The killing and dissecting of Marius outraged thousands of animal lovers. But doing so in front of public, including children, came as a total shock for many more.
On its Facebook page, the zoo's managers responded to criticism by saying they "understand the concerns about euthanizing a giraffe that is only 2 years old."
"Two years of age may sound young, but it's a natural age for giraffes to leave the herd. In the wild giraffes will leave their mothers from when they are 1½ years of age. During this age the male giraffe no longer depends on its mother. It is also the time when conflicts with the older dominating male giraffe will start," the Copenhagen zoo said.
The explanation did not sound convincing for many Facebook users, however, with some pointing that "time to leave mother" is not the same as "time to get bolt gunned in the head.""The giraffe was not euthanized, you murdered him," another user said.
Meanwhile, activists have posted several petitions collecting signatures in an attempt to prevent the possible killing of Marius's namesake. In addition, animal lovers are urging Danish Prime Minister Helle Thorning-Schmidt to shut down both the Copenhagen zoo and the Jyllands Park Zoo in a petition that has already got backing from over 98,000 internet users – and the number of supporters keeps growing.
The Born Free Foundation has been shocked by reports about another male giraffe being on 'death row' in a Danish Zoo.
"Slaughtering healthy zoo animals for convenience is irresponsible and indefensible and Born Free is calling on the European Zoo community to take responsibility for ensuring that no animal is unnecessarily killed," the statement reads.
"The Zoo Community shamelessly ask the public to accept their alleged conservation and animal protection agenda, yet they continue to breed animals irresponsibly and now seem to kill them without exhausting all placement options. Unfortunately, the killing of giraffe in zoos in Denmark is only the tip of the iceberg, as zoos in the UK and elsewhere also use euthanasia to manage their animal collections," said Daniel Turner, captivity spokesperson for Born Free.
"Zoo breeding programmes serve no conservation purpose because animals born in zoos are rarely, if ever, returned to their natural homelands," PETA press service told RT. "For anyone who cares about giraffes and other individuals serving life sentences in zoos, the giraffe "culling" should confirm that zoos are hideous institutions that do not deserve public support."
You can share this story on social media: