Turkey faces German opposition to EU dreams
Published time: 20 Sep, 2011 06:20
Edited time: 20 Sep, 2011 16:03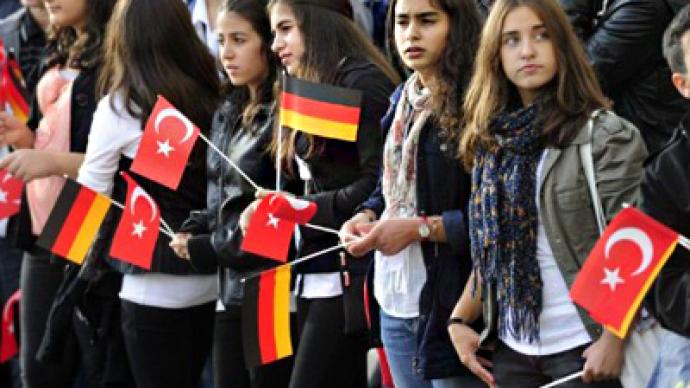 The Turkish president is in Berlin to discuss potential EU membership. German Chancellor Angela Merkel has, however, opposed Turkey's full membership in the European Union on the eve of a meeting with Abdullah Gul.
"However, we do not wish to lose Turkey as an important partner," said Merkel. She added the EU should find ways to build closer political co-operation with Turkey.

Abdullah Gul, who is now on an official visit to Germany, spoke at Berlin's Humboldt University, discussing potential EU membership and the issues faced by some 3 million people of Turkish origin in this country of 82 million. Gul said that his country would be a good addition to the European Union.
During the negotiations, Merkel and Gull agreed that immigrants of Turkish origin must study the German language in advance before coming to Germany to live.
Days before his visit to Germany, the Turkish president stated that the introduction of a German language test that spouses have to sit before joining their husbands and wives in Germany violates fundamental human rights.
Speaking after a meeting with German President Christian Wulff, Gul said that Turkey can make a major contribution to Europe. He also added Turkey is continuing to try to fulfill the various EU criteria.

Wulff also stated that Turkey could be a valuable bridge between Europe and the Middle East, but there is work to be done for both sides.

The president's speech was postponed for several hours because of a bomb threat. Berlin police searched the university building asking people to leave the venue

No explosive device was found however.
This comes as Germany marks 50 years since inviting Turkish workers to help build the Berlin Wall.