Germany confirms it supplied over 100 tons of 'dual-use' chemicals to Syria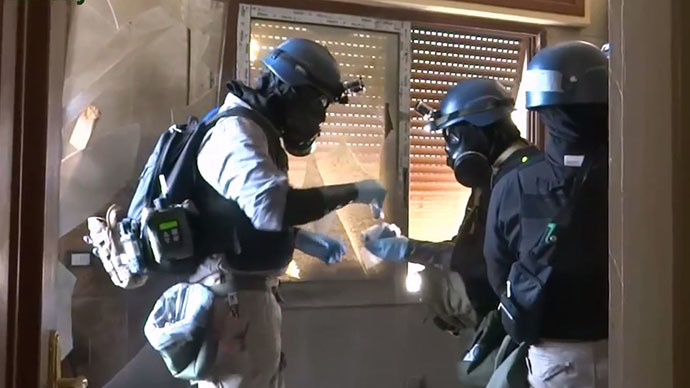 German officials have confirmed that Berlin sent chemicals to Syria that could potentially be used to make sarin gas. The government stressed, however, that it is confident the "dual-use" chemicals were not used for military purposes.
Germany exported more than 100 tons of potential ingredients for the deadly gas between 2002 and 2006.

"The permits [for delivery of the chemicals] were granted after a thorough examination of all potential risks, including the dangers of misuse and redirection with a view to possible use in connection with chemical weapons," Germany's Ministry of Economy said in a statement responding to a formal request from the socialist Left Party.

The chemicals supplied include hydrogen fluoride, ammonium bifluoride, and sodium fluoride - all of which have hundreds of domestic, industrial, and agricultural uses. However, they can also be used in the production of weapons, thereby making them "dual-use" goods.

The Left Party, is doubtful that German officials could be sure that the substances were not used to make chemical weapons.

"I cannot believe this at all. Germany delivered a total of more than 111 tons of chemicals to Syria that can be used to produce sarin – and this in a country that was known to have a chemical weapons program," said Jan van Aken, a Left Party weapons expert and former UN weapons inspector.

The first set of deliveries was made in 2002-2003, under the center-left government of Gerhard Schroeder. The second was made in 2005-2006, under the current center-right incumbents.

"According to all the findings that are at my disposal, they were used for civilian things," Chancellor Angela Merkel stated in an interview with local ARD television.
Merkel said that the government has already conducted an investigation about the deliveries, which confirmed no apparent traces between the chemicals and weapons used in Syria. She also pointed out that further supplies were banned once the internal conflict broke out in early 2011.

She did, however, promise to conduct a further investigation.
Germany has backed a US resolution urging strong sanctions against the Syrian regime for the August 21 attack in a Damascus suburb, which Washington claims killed over 1,400 people. The Syrian regime denies responsibility for the attack. It has vowed to hand over all of its chemical weapons and applied to join the international Chemical Weapons Convention.

You can share this story on social media: