Germans outraged at privacy law passed as football kicked off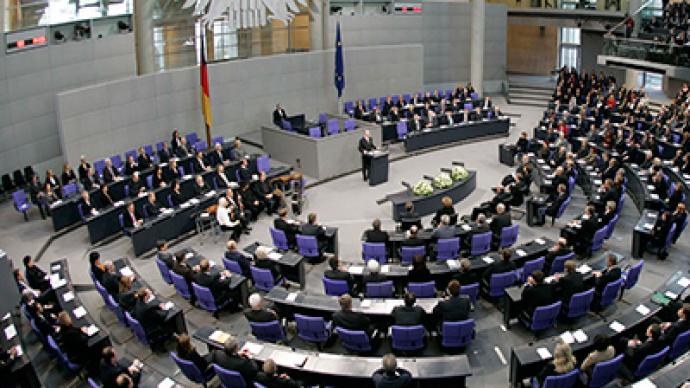 Germany's Bundestag passed its new registration law in just 57 seconds – as deputies rushed off to watch the national side play football against Italy. But it could undermine Germans' right to privacy for years to come.
­Now, every single time a German moves to a new home, and gives the local authorities his address (as he is legally obliged to) as long as he does not explicitly forbid them from doing so, the authorities are allowed to sell his personal data to third parties.Thus, the local council could be selling private information about people living in the area – their names, address, age and sex – to marketing companies, which apart from bombarding residents with junk mail, would then have hoards of sensitive personal data in their possession.The law has caused an outrage in famously privacy-conscious Germany. More than 120,000 people have signed an online petition for it to be repealed.Selling data on was previously allowed, but only on an opt-in basis – citizens had to give their approval. Earlier drafts of the new legislation suggested the same practice would be maintained."One has to wonder whether the law didn't come into being under pressure from the associations – the advertising industry and the address trade," Johannes Caspar, a data protection officer in Hamburg, told Deutsche Welle radio."There is no other way to explain why the pre-existing draft law, which included an option requiring a citizen's consent, was changed. The previous draft was fine."The new law is due to come into force in 2014.However, the manner in which the legislation was pushed through caused particular fury.On June 28, as the entire German nation was glued to the TVs watching their country play against rivals Italy in the semi-finals of the European Football Championships, the legislation was put before the almost-empty Bundestag.Six minutes after the start of the match it was passed – without debate.The law now has to be approved by the upper house of parliament, the Bundesrat.The online campaign is focusing on pushing the Bundesrat to reject it. And it appears to be working."Following the Bundestag decision, there needs to be more discussion," Ilse Aigner, the minister of food, agriculture and consumer protection, told the Berliner Zeitung newspaper. Aigner is from the Christian Democrats, the party that put forward the registration law.But even if the legislation makes it through in its current form, civil liberty groups are unlikely to let the issue go."It is legal madness," says Thilo Weichert, head of the Independent State Center for Data Privacy.