German education minister resigns amid plagiarism scandal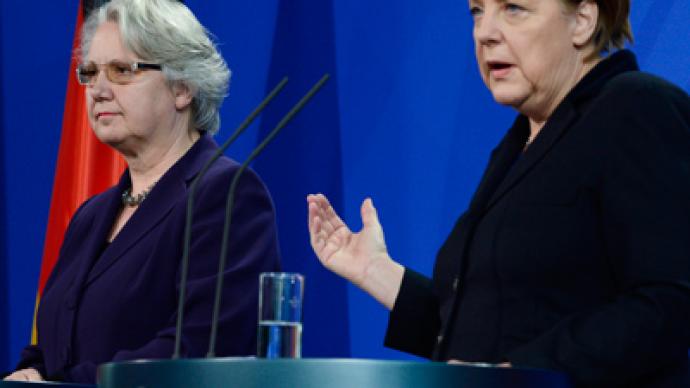 Germany's education minister has announced her resignation after a university withdrew her Ph.D, accusing her of plagiarizing parts of her thesis. This comes during Chancellor Angela Merkel's campaign for a third term in office.
The decision to resign came several days after Heinrich Heine University of Düsseldorf stripped Education Minister Annette Schavan of her doctorate on plagiarism findings. A review of her 1980 thesis, which dealt with the formation of conscience, was undertaken after an anonymous blogger raised allegations of plagiarism online last May. The probe culminated on Tuesday in a decision to revoke Schavan's Ph.D. on the basis that the university council found proof that she had "systematically and deliberately" copied parts of her thesis from other authors.The minister denies the accusations, intending to take legal action against the university's decision."I will not accept this decision — I neither copied nor deceived in my dissertation," Schavan told reporters, speaking alongside Merkel at a news conference Saturday. "The accusations … hurt me deeply."Schavan, a member of Merkel's Christian Democratic Union (CDU), made it clear that she wasn't going to undermine the reputation of the party and the government in the lead-up to the parliamentary elections scheduled for September 22."If a research minister files a suit against a university, that of course places strain on my office, my ministry, the government and the CDU as well," she said. "And that is exactly what I want to avoid."Merkel praised Schavan for her professional accomplishments as a politician whose career in education began 17 years ago, saying she "had much to thank [Schavan] for." Johanna Wanka, the regional education minister in the state of Lower Saxony, will replace Schavan, Merkel said.The scandal comes two years after the now-former Defense Minister Karl-Theodor zu Guttenberg was stripped of his doctorate and quit, also accused of copying parts of his dissertation.
You can share this story on social media: