Merkel projected to win third term despite EU outrage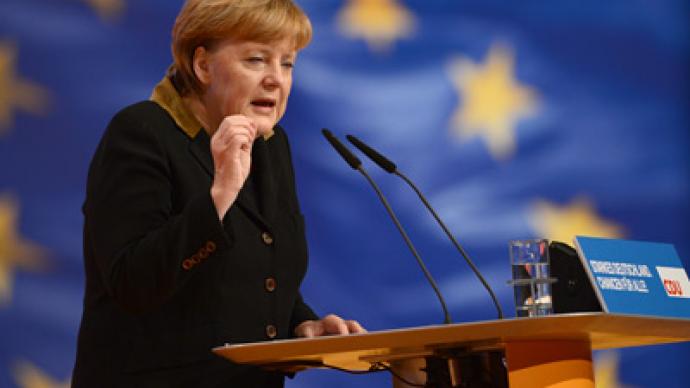 German Chancellor Angela Merkel looks set to run for a third term in next year's general elections, as she rallies supporters at the Christian Democratic Union's (CDU) two-day conference in Hanover.
Rattling off her government's accomplishments, the leader told supporters that unemployment in Germany is down, the economy is still growing while others in Europe are stagnating or shrinking, and that the deficit has been reduced.
"We have guided Germany out of the [economic] crisis stronger than Germany entered the crisis,'' Merkel told a cheering audience on Tuesday.
But those in crisis-hit Southern European countries are less than eager to sit through another four years with Merkel in office.
During her latest visit to Athens, posters around the city compared Merkel to Hitler.
A protester holds a plackard of German Chancellor Angela Merkel featuring a Hitler moustache near the Greek parliament in Athens during a demonstration against the vist of the German Chancellor Angela Merkel on October 9, 2012. (AFP Photo / Louisa Gouliamaki)But though she is a hated figure among austerity-hit Europeans, the German leader's approval ratings remain around 70 per cent in her home country, and she is projected to win the election."In crisis times, people always flock around strong leaders," Stephan Werhahn, a German politician running with the Free Voters Party, told RT.But people are also flocking to the streets. Just last month, millions of demonstrators protested against austerity in several European countries including Portugal, Spain and Italy.Still, Werhahn says, Merkel's odds appear promising.  "There is neither in the CDU a challenger, nor is there anybody from the opposition so far who is a strong enough personality to really challenge her," he said. The election is not set to take place until September of next year, but the poll is already reported to be affecting Merkels' decision making. "The International Monetary Fund recommended a haircut, but Mrs. Merkel avoided it because that would have an immediate effect on the German budget and taxpayers. And since we have elections next year, she's avoiding having any tax money involved," Werhahn said. If Merkel wins the election, she will become Germany's second-longest-serving postwar chancellor after Helmut Kohl, and will be headed towards becoming Europe's longest-serving female head of government.
An anti-austerity protester holds a placard against the German Chancellor Angela Merkel during a demonstration in Athens on October 8, 2012. (AFP Photo / Louisa Gouliamaki)