Germans lose trust in US, see NSA whistleblower Snowden as hero – poll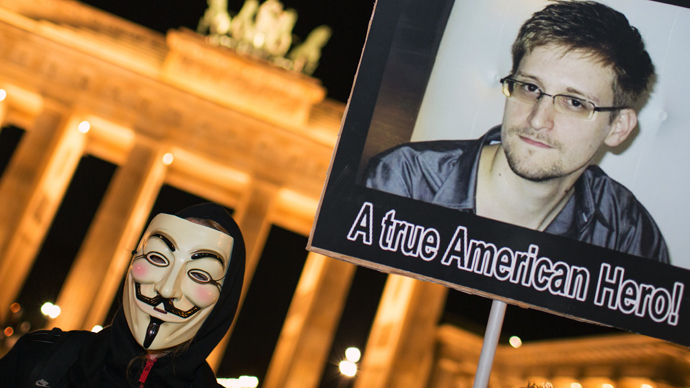 Germans' confidence in the US as a trustworthy partner has plummeted following the NSA scandal, while Edward Snowden, who exposed America's spying on its allies, is considered a hero by 60 percent of the population, a poll shows.
The recent chain of scandals over US global snooping has seriously damaged the opinion of Germans about their longtime ally.
Only 35 percent still see Washington as a reliable partner – a drop of 14 percent since July, according to a survey conducted by public broadcaster ARD and Die Welt daily. This year's figures are a massive drop from the situation at the start of President Barack Obama's presidency, when he was given an enthusiastic welcome on his first official visit to Berlin, and 76 percent of Germans said they trusted the US government in a Nov. 2009 poll. 
US President Barack Obama's personal approval rating with Germans has also plummeted. Once a highly popular foreign politician, now Obama enjoys support from only 43 percent of Germans, while over half are unhappy with his performance. 
German Chancellor Angela Merkel – whose private mobile phone was also allegedly bugged by American security services – warned earlier that spying among friends was unacceptable. She made it clear to Obama that if the information was proven to be true, it would represented a "grave breach of trust." Merkel also demanded that Washington sign up to a 'no-spying' agreement with Berlin and Paris by the end of this year.
But most Germans are not about to be fooled a second time around, it seems. Over 90 percent think that the Americans would breach a no-spying agreement anyway and continue their surveillance activities, the survey found.
Meanwhile, six out of 10 Germans consider NSA whistleblower Snowden a hero, with only 14 percent of those polled saying that the 30-year-old security specialist was a criminal. However, respondents were fairly evenly split on whether he should be given asylum in Germany: 46 percent were in favor, and 48 percent against.
German officials have ruled out granting Snowden political asylum, arguing that the NSA whistleblower is "not a political refugee."
Merkel reaffirmed Monday the importance of Berlin's ties with Washington, making it clear that Germany would not take any steps that might harm relations with the US. 
"The trans-Atlantic alliance remains for us Germans of exceptional importance," Merkel's spokesman Steffen Seibert told reporters in Berlin. "There is hardly a country that has profited as much from this partnership and friendship as Germany... and this will guide the chancellor in all future decisions."
However, Germany wants Snowden to testify concerning espionage allegations against the US and the UK. Currently, Germany is considering the possibility of questioning Snowden in Moscow, where he has been since June. 
Snowden, who faces espionage charges in the US, was provided with temporary asylum in Russia in August.
You can share this story on social media: