Top German court approves €500-bln eurozone bailout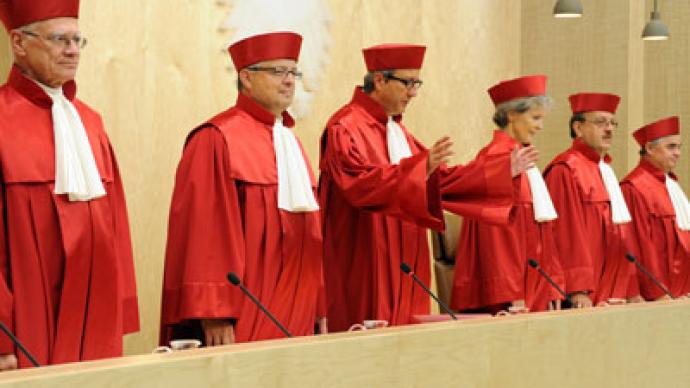 Germany's Constitutional Court has ruled that the €500-billion bailout is legal under German law. The verdict comes as Greece's coalition government hesitates on the further austerity cuts required by its creditors.
"Today, Germany is once again sending a strong signal to Europe and beyond. Germany is assuming with determination its responsibility as the biggest economy and as a reliable partner in Europe," German Chancellor Angela Merkel told Parliament hours after the ruling. "This is a good day for Germany and this is a good day for Europe," she said.The verdict ruled that the German government will not be liable for sums over 190 billion euros without approval of the Bundestag, and that both houses of parliament would be informed, RT's Peter Oliver reported from Berlin on Twitter."No provision of this treaty may be interpreted in a way that establishes higher payment obligations for the Federal Republic of Germany without the agreement of the German representative," the court said in a statement.The court has reviewed a petition, signed by some 37,000 Germans, against Chancellor Angela Merkel's plan for a new economic bailout for troubled eurozone countries. The plaintiffs were demanding safeguards for Germany's economic and political sovereignty. The case was spearheaded by politicians and lawyers from across the political spectrum."Until now, even without the European Stability Mechanism (ESM), our German obligations for the different euro rescue institutions exceeds to about 771 billion euro. That is three times the income of federal taxes per year. We cannot take more burdens – it's impossible," Compact Magazine editor-in-chief Jürgen Elsässer told RT.The opposition delayed implementation of the ESM and the so-called "fiscal pact" – a binding commitment for European governments not to go further into debt – both of which the German government is eager to see realized.If the bailout had been struck down, the effect on bond markets would have been devastating, and could have potentially triggered a constitutional crisis as the German parliament already ratified the treaties.
Greece reels as protesters, infighting stall bailout talks
Greek protesters have attempted to interrupt a recent round of austerity talks, which saw Athens' creditors demanding more budget cuts in return for continued aid. On Tuesday, trade unionists formed a human chain to block the entrance of the Labor Ministry building, delaying scheduled negotiations with the Troika of creditor nations by two hours.The European Commission, European Central Bank and International Monetary Fund are demanding that Greece impose 11.5 billion euros in further cuts over two years before providing further aid. Greeks have already witnessed several rounds of cuts in wages and pensions, triggering mass protests across the country.Greek Prime Minister Antonis Samaras's three-party coalition government is becoming increasingly fragile, with some members opposing further austerity measures that impact the general populace. The moderate Democratic Left party proposed on Tuesday to instead cut military spending and energy subsidies, and to curb waste in healthcare expenditures.
You can share this story on social media: