'Go home': German far-right party sends hate mail to ethnically-mixed politicians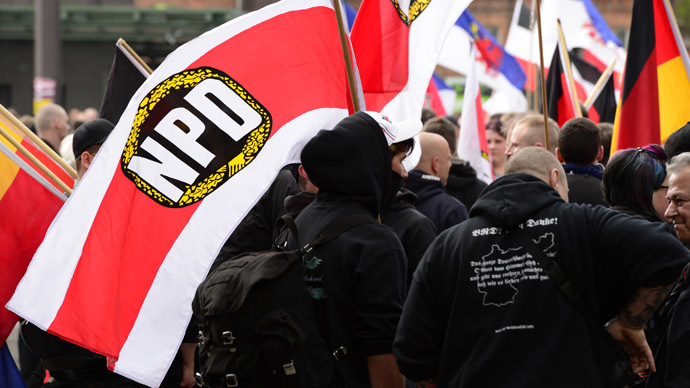 A far-right party in Germany wants politicians of mixed ethnic backgrounds to 'go home'. It sent them one-way plane tickets ahead of the Sunday election, which quickly resulted in public outrage.
Politicians from the Green Party and the far-left Linke party became targets of the attacks, leading to the Green Party candidate Ozcan Mutlu to press charges against the National Democratic Party of Germany (NPD). The charges have led to German lawmakers seeking to ban the party from politics.

"Threats like these are anti-democratic and must not go unanswered," he told Germany's The Local. He was joined by Brazilian-born Fabricio do Canto from the online-freedom-advocacy party, The Pirates, who admitted to the Stern news weekly that the letter was a "shock" to him and wondered how the neo-Nazis got his address.

The tickets were from a mock company called 'Return Airlines', with the destination put down as 'home country' and the date of departure as 'immediately'. They were accompanied by a letter from the NPD's Berlin member Jan Sturm, in which he accuses politicians of differing ethnic descent of trying to politically influence the lives of ethnic Germans.

This far-right party has caused controversy before. Just last month they were in the headlines for aggressively protesting against the construction of a center for political refugees from countries like Syria, Afghanistan and Serbia.

They also got on the upper house of parliament's list last December, when the house voted to ban the party at the Federal Constitutional Court in a case projected to last for years.

This is not the first time the NPD had locked horns with the government. About 10 years ago, the court had failed to outlaw it after deciding that the presence of undercover government agents among its ranks would negatively impact the case.

This time around, Chancellor Angela Merkel has refrained from participating in any action against the openly racists party. It is her belief that another failure by the government to expel the NPD from politics would result in the party gaining only more popularity and possibly victimize it.

But the NPD is also among the more successful extremist German parties. Although no party of this sort has ever made it to the national parliament, the NPD has secured a place in two state parliaments, and has the right to seek federal funding for its election campaigns.

You can share this story on social media: