Mass police raids in Germany signal neo-Nazi crackdown
Published time: 23 Aug, 2012 19:45
Edited time: 23 Aug, 2012 23:45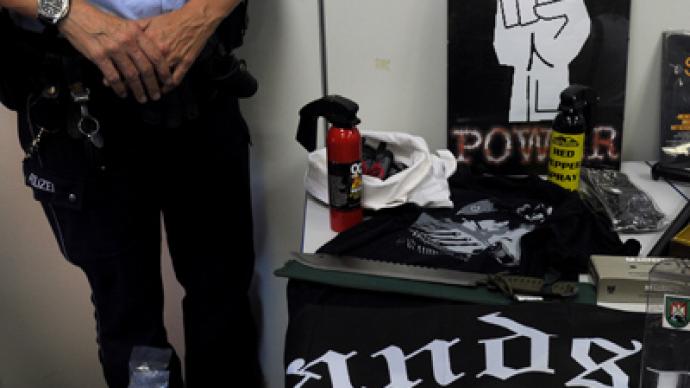 Over 900 police officers raided clubhouses and apartments of alleged neo-Nazis in Western Germany on Thursday, seizing far-right propaganda, weapons, and computer hard drives. The move follows the decision to ban three far-right groups in the region.
Police searched 146 premises, across 32 cities and towns in North-Rhine Westphalia, to collect evidence against the three neo-Nazi groups who recently found themselves on the wrong side of the law.
The regions interior minister, Ralf Jaeger, described the banned groups as "xenophobic, racist and anti-Semitic," adding: "They employ fists and knives against their political opponents," Reuters cites him as saying.
Election posters of the far-right National Democratic Party (NPD) were among the materials seized, which Jaeger says highlights the groups' links to Germany's neo-Nazi movement.
While no arrests were made, Jaegar said evidence collected during the raids could be used in forthcoming efforts to add the NPD to the list of banned groups, believing they secretly support the country's more violent far-right militants.
"These groups are anti-foreigner, they are racist and they are anti-Semitic," Jaeger said at a news conference. "We will continue to crack down on these enemies of the state and tread on their black leather boots," he continued.
The NPD has deputies in two state assemblies though they are yet to clinch any seats in the federal parliament. While the NPD have taken a staunchly anti-immigrant line, they have avoided attempts to be labeled a neo-Nazi party, which would facilitate their ban.
The crackdown on the country's far right movement was sparked by revelations last year that that a trio of neo-Nazi's- calling themselves the "National Socialist Underground"- killed nine minorities and one police officer over a seven year period without attracting attention from the country's domestic intelligence services.
The existence of the group was only exposed last November after two of its members were found dead following an apparent murder-suicide in the wake of a failed bank robbery. The third suspected member is currently in custody awaiting trial.
Germany's domestic intelligence agency estimates that overall membership in the country's neo-Nazi movement has fallen from 25,000 to 22,500 in 2010.  However, the number of radicalized individuals willing to use violence to further their aims has reportedly grown from 9,500 to 9,800 during the same period.
On Tuesday, Twenty-six alleged neo-Nazis accused of perpetuating a number of attacks against leftists went on trial in the German city of Koblenz. Prosecutors say that from 2009, until their arrest in March, the defendants carried out attacks ranging from torching cars, throwing stones through windows and initiating street fights.
They were also accused of keeping tabs on left-wing activists, including addresses, license plates numbers and photographs. If convicted, they are facing sentences of up to 15 years in prison.
Whilst Tuesday's trial and Thursday's raids have focused attention on the country's west, the far-right maintains a much stronger presence in the country's east, especially in depopulated rural regions where neo-Nazis sit on town councils and regularly organize local sports festivals and youth events.
Nazi paraphernalia and weapons are on display at a press conference after they were seized by police during the raid. (AFP Photo / Caroline Seidel Germany Out)
Nazi paraphernalia and weapons are on display at a press conference after they were seized by police during the raid. (AFP Photo / Caroline Seidel Germany Out)
Nazi paraphernalia and weapons are on display at a press conference after they were seized by police during the raid. (AFP Photo / Caroline Seidel Germany Out)