German 'anti-euro' political party calls for 'orderly dissolution'
A new political party has been formed in Germany with the sole aim to get the country out of the Euro amid the rising economic burden that Germans share to keep the currency afloat in wake of the ongoing financial crisis in the bloc.
Some 1500 delegates from the Alternative for Germany Party (AfD) met in Berlin on Sunday to officially launch the organization, openly calling for "orderly dissolution of the euro." AfD also asks for the return of some sovereignty from the EU to the member states, as well as the introduction of Swiss-style referendums at the federal level.
"The euro is dead. What we do right now is we put it under special surgery, we give it infusions. But actually it is already dead, but our politicians haven't recognized that yet ," AfD member Paul Hampel told RT.
The party – created by economists and professors dissatisfied with the euro – now boasts 7,500 members. It aims to debut in September's general elections and challenge Chancellor Merkel's policies.
"We find it ridiculous that our Federal Chancellor tries to turn the lovely people of Greece, Italy and France into Prussians. She will never manage to do that. It will not work and it will bring disunity instead of unity in Europe ," Christof Heimann of AfD said.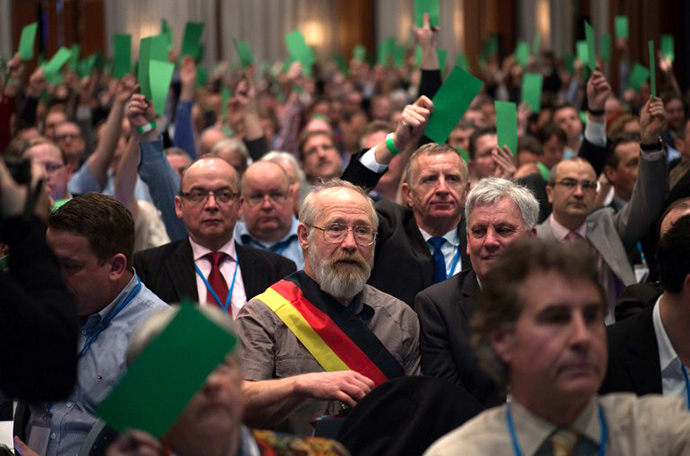 Germany's established parties have criticized AfD's platform as populist.
"They are advocating something that I consider to be unfounded, dangerous and illusionary," because this would mean "a return to a traditional-style nation-state" that will hurt  Berlin's export-dependent economy, Jürgen Trittin from the Green Party told the Welt am Sonntag newspaper.
"The Alternative for Germany has a program for destroying jobs in the German export industry," Trittin added.
The political establishment is also worried that the new anti-euro party will attract voters frustrated by German support for a number of bailouts for debt-ridden eurozone members.
All political parties in Germany must receive five percent of the national vote in order to qualify for representation in the lower house of parliament, the Bundestag.

You can share this story on social media: