Georgia-South Ossetia crisis timeline – 16 August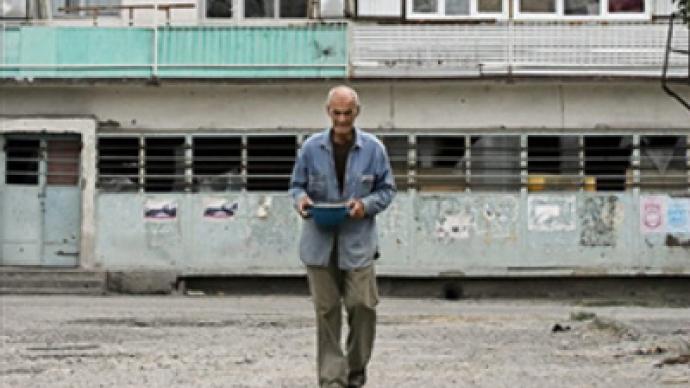 23:32 GMT – U.S. President George W. Bush has personally called Georgian president Mikhail Saakashvili to express his support to the leadership and people of Georgia.
21:34 GMT – French President Nicholas Sarkozy has sent a letter to Mikhail Saakashvili, concerning additional security measures in connection with cease-fire in the conflict zone.
20:01 GMT – German Chancellor Angela Merkel is going to visit Georgia's capital Tbilisi on Sunday to hold talks with president Saakashvili. Cease-fire, as well as putting an end to Russia-Georgia confrontation and Russian troops' withdrawal from Georgia is on the agenda.
19:43 GMT – Georgian President Mikhail Saakashvili said his country "will never bow to Russia". While meeting Georgian refugees from Tskhinval, Saakashvili said Russia "has put pressure on Georgia over the past several years".
19:40 GMT – The Russian Emergency Ministry's plane left Vladikavkaz in North Ossetia to take five people wounded during the conflict to Moscow.
19:36 GMT – Ukrainian President Viktor Yushchenko and U.S. Secretary of State Condoleezza Rice discussed the situation in Georgia by telephone. They confirmed that the territorial integrity of Georgia should be one of the main principles of conflict resolution in the region.
19:28 GMT – Over 200 mass appeals to international justice organisations, such as the European Court of Human Rights in Strasbourg and the International Criminal Court had been filed by South Ossetian people. That's according to the breakaway republic's First Deputy Prosecutor General.
15:44 GMT – The number of people killed in the Georgian attack on South Ossetia is more than 2100, according to the republic's Interior Minister.
15:16 GMT – The pace of planned Russian troop withdrawal from Georgia would depend on "how extra security measures for the peacekeeping force are being put into practice on the ground," according to Russian Foreign Minister Sergey Lavrov.
14:57 GMT – Russian troops in South Ossetia detain marauders and hand them over to local authorities, according to Deputy Chief of the Russian Army General Staff, Colonel-General Anatoly Nogovitsyn.
13.49 GMT – President Dmitry Medvedev orders the government to start putting the truce into practice.
10:57 GMT – Russian President Dmitry Medvedev signs a French-brokered peace plan on resolving the conflict in Georgia.
07:20 GMT – Kazakhstan sends its first batch of humanitarian aid to South Ossetia.
06:53 GMT – A hundred builders from North Ossetia have arrived in South Ossetia to help with the reconstruction.
04:53 GMT – Two criminal cases are opened investigating the killing and genocide of Ossetians. Russian citizens living in South Ossetia are united in joint proceedings, a source at the Russian Prosecutor's Office told Itar-Tass.

Georgia-South Ossetia crisis timeline – 15 August
You can share this story on social media: