Georgia's Oldest Opposition Newspaper Gives Up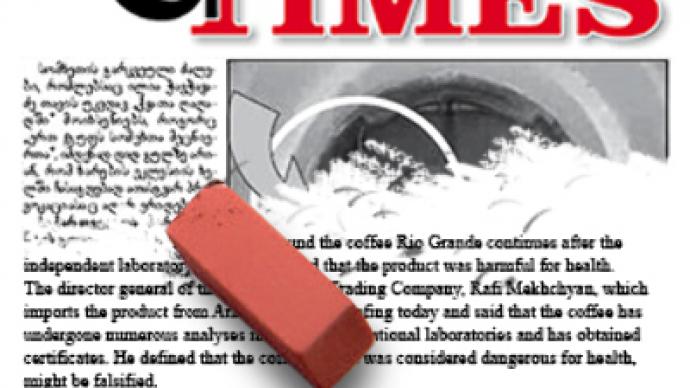 One of Georgia's longest-established opposition newspapers, The Georgian Times, will no longer be published in its native language. The paper's management says it cannot deal with government pressure any longer.
The decision was made by the president of a media holding company that owns the weekly. Malkhaz Gulashvili, who openly – and vocally – opposes the Georgian leadership said the move shows his revolt at the government's actions towards the opposition in the country. The Georgian authorities have put "high psychological pressure" on him, said Gulashvili.
The straw which broke the camel's back was the detention of his 16-year-old son. Police stopped the president's son together with his friends and warned: "Don't run or we will shoot!". Officers searched the youngsters' car at gunpoint, and then searched the boys. The teenagers silently obeyed the police, explained Gulashvili. "We think that the clever and calm behaviour of the boys prevented the danger that could have led to a dramatic scenario".
He detailed his reasons for closing the paper in a statement: "I, the president of the media holding company "The Georgian Times", Malkhaz Gulashvili, state, that Motherland starts with the family. The defence my family is my number one duty. And, for the first time in 17 years working on "The Georgian Times", I am taking the unprecedented decision that the Georgian edition…suspends its activities. The myth of freedom of the press in Georgia is under huge question. Me, personally, in circumstances described above, cannot offer society a free and objective newspaper".
Only the English version of the paper will be published. It occupies a different niche among news media and plays a bridging role between Georgia and the rest of the world. The triple-language online service will now work twice hard, underlined Gulashvili.
"And me and my journalist staff remain common soldiers of our country and will continue the battle in regular mode", said the president.
The news is the latest addition to a growing anti-government mood in the country. Many opposition parties demand Saakashvili's resignation. They have already held a number of protest rallies and concerts with a major anti-government event planned for April 9.
You can share this story on social media: