Saakashvili blaming Russia is like Gaddafi blaming Al Qaeda – journalist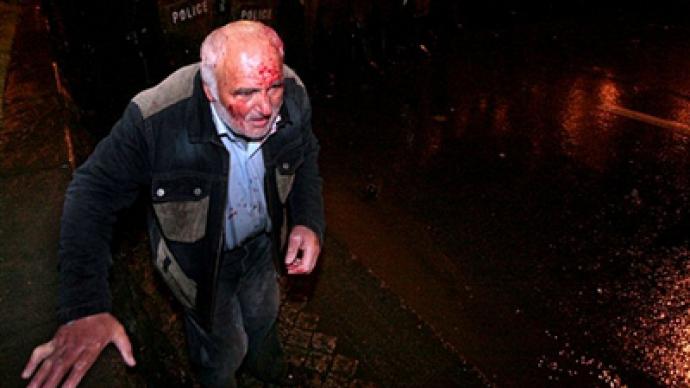 As public anger at Georgia's government boils over, President Saakashvili may be taking his lead from other, similarly-unpopular leaders, investigative journalist Wayne Madsen told RT.
"Like Mubarak, we certainly know that one of the criticisms by the opposition is the corruption rampant in this government," he said. "It is very nepotistic administration he runs. So we are seeing a lot of people saying enough is enough, leaving his government, joining the opposition." "Saakashvili, on the other hand, is claiming that somehow Russia is behind this rebellion," he added. "He is doing the same things that Gaddafi did in Libya by blaming Al-Qaeda.  Mubarak, of course, blamed everybody for his problems."
Mikhail Aleksandrov, a political analyst from Moscow, finds the situation in Georgia similar to what's recently transpired in the Middle East."I think [Saakashvili's] regime is a bit worried about what's happening in the Middle East, and the situation in Georgia is very similar to what happened in Tunisia, Egypt and Libya," he told RT. "Unfortunately, we do not see an adequate reaction from the international community, as it was in the case of the Middle East. Only Russia's Ministry of Foreign Affairs, I think, expressed concerns about the excessive use of force by the [Georgian] police."The analyst condemned the Western media and politicians for their lack of criticism of the Saakashvili regime:"In fact, the American ambassador in Tbilisi, actually sided with the government, saying that the demonstrators violated the law and so on. I wonder why he didn't say anything like that about Libya, when the rebels took control of military arsenals, killed several police officers and so on, and so forth."
There have been no US television reports on the protests in Georgia against Saakashvili, and the media appears to be very biased, said Joe Mestas, an American who lived in South Ossetia during the 2008 war between Georgia and Russia and witnessed the violence carried out by Georgian forces in civilian areas.  "If there was a violent reaction like there was in Egypt and Libya, the US might still support their puppet Saakashvili," Mestas told RT.
Tsotne Bakuria, a former Georgian politician and expert on politics in the Caucasus, says the violent crackdown on protests will just provoke more demonstrations."Even though the Georgian authorities strongly tried to intimidate our people and last night was the most dark and painful night in the recent history of my country, it is not going to work the way the authorities had planned," he said. "I think Georgians are frustrated and outraged, and we are expecting more and more rallies in coming days."
You can share this story on social media: