'No one, Mr. Kerry, has right to withdraw president's legitimacy' - Syrian FM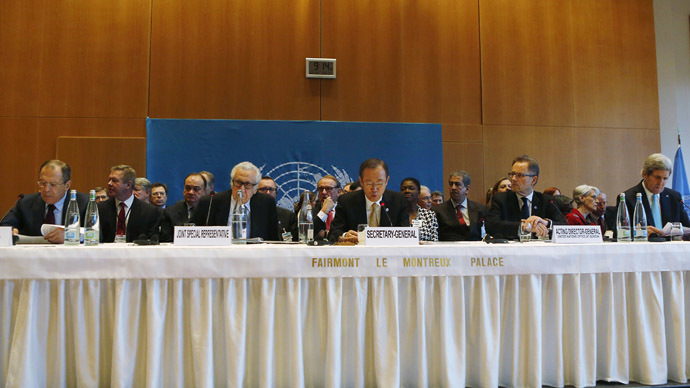 Geneva 2 quickly descended into a war of words, with each successive speaker ratcheting up the rhetoric as tensions from the protracted civil war which has ravaged the country for three years quickly bled into the peace conference.
UN Secretary General Ban Ki-moon on Wednesday kicked off the long-awaited international peace conference for Syria, opening the international bid to end the blodshed.
Ban said the conference provided an opportunity for all sides to show unity, saying "today is a day of fragile but real hope."
The UN Chief pointed a finger at the Syrian government, saying if the democratic demands of the Syrian people had been listened to at the outset of the conflict, "we might not be here today." Ban painted a grim picture of a country racked by violence and lawlessness, urging all sides to put an end to terrorist attacks and unequivocally allow foreign aid into the country.
Taking the floor from Ban, Lavrov delivered his points in rapid fire succession, noting that the historical responsibility for peace rested on the heads of everyone in attendance.
The Russian FM said it was necessary not to allow shockwaves emanating from Syria to engulf the whole of the Middle East. In an apparent slight to Western partners in attendance, Lavrov said that any attempt to impose models of governance on Middle Eastern States and North Africa would "turn back the clock", noting one needn't look far to find examples.
Reiterating Russia's long standing position, Lavrov said no solution in Syria could be found via the use of force, and it was up to the Syrian people to independently determine their own future.
Lavrov stressed that the current atmosphere of intolerance and sectarian strife is alien to Syria, saying Russia feared the mass exodus of Christians who had lived in the country for over 2,000 years. He warned of the dangerous trend of "internal contradictions" within Islam, saying Russia hoped the Islamic world would become united so that it could take its proper place in the polycentric world order.
He concluded his remarks by saying that there was not a 100 percent chance of success, but there is a realistic chance peace will be attained in Syria.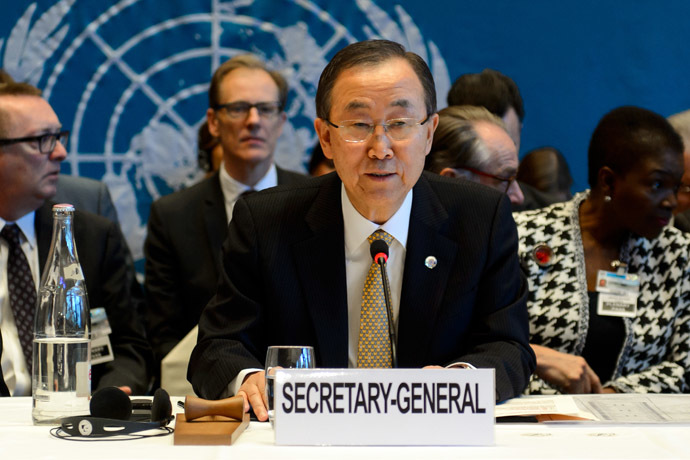 Lavrov yielded the floor to his US counterpart John Kerry, who said a future transitional government of Syria does not have a place for thousands of violent extremists, who are currently fighting in the country. He also alleged that the current government in Damascus attracts those extremists as a magnet, and that until a transitional government is formed, there is no hope of defeating terrorists in Syria.
Kerry highlighted a longstanding difference between Russia and the US by insisting that Syrian President Bashar Assad must step down. Russia has long maintained it is up to the Syrian people to decide what Roll Assad will play in any future government.
Meanwhile, Syrian Foreign Minister Walid Muallem warned Wahhabi militants fighting under the cover of revolution are seeking to plunge Syria back 1,000 years in accordance to their idea of Islam. He said the radical Islamists are killing civilians, desecrating graves and bombing mosques, all while enjoying support from some of Syria's neighbors.
Muallem singled out Turkish Prime Minister Recep Erdogan, saying his government had backed the militants, only to discover that this would backfire on Turkey. He said people should remember an age-old adage, which says you shouldn't watch your neighbor's house burn, because the fire will spread to your own home.
The Syrian minister was unrelenting in his criticism of the Turkey-based opposition, saying that they were staying in five-star hotels while people in Syria died and sold their support to the highest bidder. His speech, however, was interrupted by Ban, who asked him to wrap up his comments. It led to a debate between Ban and Muallem, who insisted that he needed more time to present Syria's view of the conflict.
"You've spoken for 25 minutes," he told the head of the UN.
"I need at least 30," Muallem replied.
He also rebuffed Secretary Kerry, saying no one had the right to "withdraw legitimacy" from the Syrian president or government. It is the Syrian people, he said, how have the right to choose.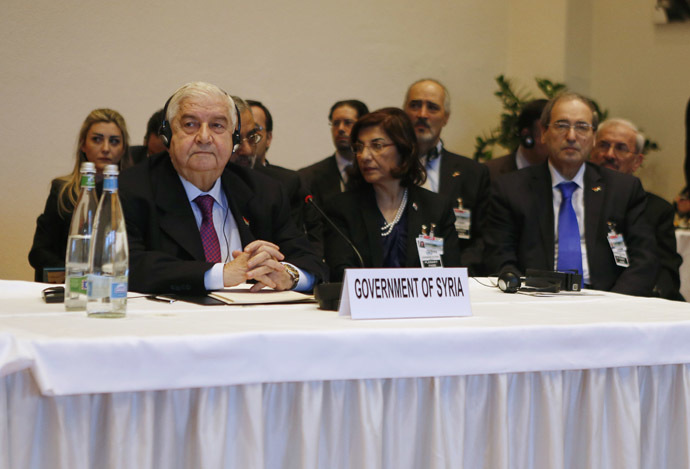 Following Muallem's remarks, Ban reminded other participants to refrain from making derogatory statements.
Ahmad Jarba, who heads Syria's main opposition National Coalition, did not heed Ban's request, saying that photographs depicting torture allegedly conducted by government forces was similar to war crimes committed by the Nazis.
Jabra called on the Syrian government delegation to commit itself to a full transition that would transfer power from Assad to an interim administration.
Not pulling any punches, Jabra was quick to throw out a charge usually levied by the government, branding President Assad is a terrorist. Saying it was in fact Assad who had facilitated the rise of Al-Qaeda linked terrorists in the country, he made it clear that the National Coalition is unwilling to deal with the Syrian president and said his resignation is in fact the intended goal of the gathering.
Following the firebrand speeches delivered by the Syrian government and the opposition, China's FM Wang Yi delivered a much more sober address, promising 20 billion yuan ($ US 3.3 billion) in assistance to the war torn country.
Saudi Foreign Minister Prince Saud al-Faisal had choice words for the Syrian government, saying there was no room in the country's transition for those whose hands are "stained with blood."
Prince Saud called on all foreign forces, including Hezbollah fighters from neighboring Lebanon and Iranian Revolutionary Guards who are backing Damascus against rebel forces, to leave the country at once.
Conspicuously absent from the conference was Iran, whose last-minute invitation was recinded by the UN Chief after the Syrian opposition threatened to boycott the talks.
Iranian President Hasan Rouhani said the Islamic Republic's absence from the proceedings would hinder chances of a successful outcome.

"Because of the lack of influential players in the meeting, I doubt about the Geneva 2 meeting's success in fighting against terrorism ... and its ability to resolve the Syria crisis," Rouhani said.
On Tuesday, Lavrov said Iran's absence from Geneva 2 was a "mistake, but not a catastrophe."
You can share this story on social media: