​Syrian opposition refuses to meet govt face-to-face at Geneva 2 talks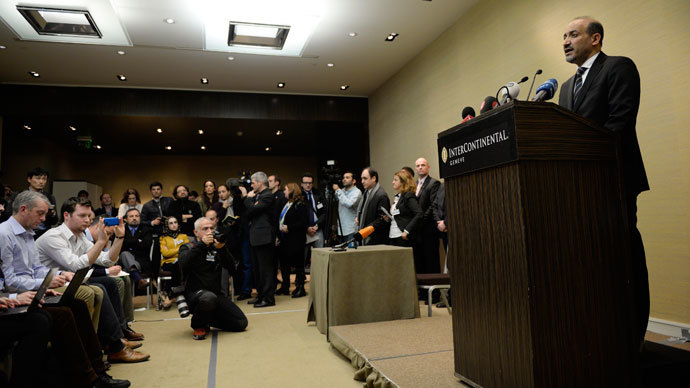 The Syrian opposition involved in the Geneva 2 peace talks said a face-to-face meeting with President Bashar Assad's representatives is unlikely to happen. Formal discussions on how to alleviate the ferocious civil war are set to begin on Friday.
United Nations mediator Lakhdar Brahimi will move between the two delegations at the talks in Switzerland, which will ramp up Friday under the patronage of the UN and world powers like Russia and the United States.
Haitham Al-Maleh, a senior member of the opposition coalition, said it was "not easy" to sit in the same room with Assad's regime during Wednesday's opening of the conference. He does not expect the more intensive negotiations to involve the two sides sitting down with one another, either.
"I don't think we're ready for that yet. The gap is too big," he told the Times of Israel.
On Thursday, the opposition stayed firm with its major demand that President Assad should step down, as his "regime is dead" and the country is looking "into the future without him."
"This is the basis of our negotiations and we will demand it," Syrian opposition chief Ahmed Jarba said, according to Reuters.
Syrian government officials in attendance left the talks on Thursday without making a statement, insisting that Assad has no plans to step down.
"Obviously he is not ready at this point in time," US Secretary of State John Kerry said in an interview with Al-Arabiya television.
Jarba also said that Russia, Assad's ally, has pledged it is not "holding on" to the Syrian president. "When I met Lavrov last week in Paris, he confirmed that Russia isn't holding on to Assad," he said.
The palpable fragility of the talks centers around arguments for and against Assad's role in a transitional government. Both sides are threatening to pull out if their demands are not met.
"We have started to look into the future without him. Assad and all of his regime is in the past now. Nobody should have any doubt that the head of the regime is finished. This regime is dead," Jarba said, underscoring a tenor of limited expectations at the Geneva 2 talks.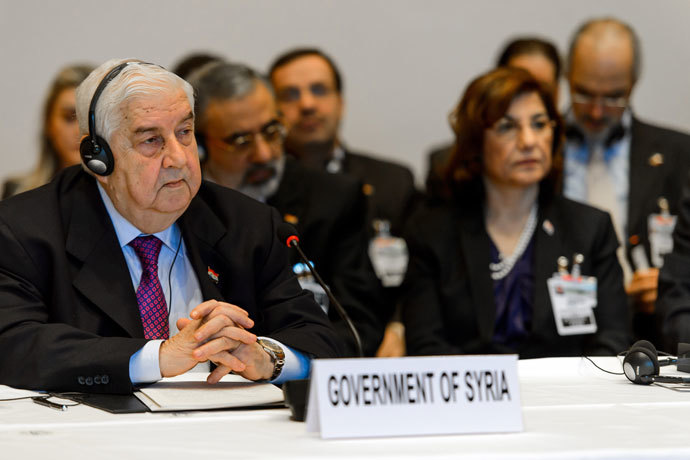 The first day of talks in Switzerland, on Wednesday, was riddled with harsh denunciations made by both sides of the other's lack of compromise and brutality on the ground during a fierce civil war.
Meanwhile, other participants defended their own prerogatives. Western countries, Arab states, and Turkey supported the opposition in calling for a transitional government that excludes Assad. Russia pushed for the talks to be focused on tamping down terrorism.
One opposition representative has stated that a slower, step-by-step process is needed. He said that practical moves like prisoner swaps, ceasefires, weapons withdrawals, and aid centers should be established before any talk of Syria's political future begins.
Islamist fighters antagonistic to both Assad and the opposition officially backed by the US and others are not represented at the talks. Al-Qaeda-linked Sunni militant groups, which control large swaths of territory, have accused opposition members in attendance of being traitors. Assad's main regional ally, Iran, is also not involved in the Geneva 2 conference. The nation's invitation was rescinded by the UN shortly before talks began this week.
Over 130,000 people are believed to have perished since the country's civil war broke out in 2011. Nearly a third of Syria's 22 million residents have been displaced, and half are in need of international aid, according to Reuters.
You can share this story on social media: