Spectacular Geminid meteor shower sweeps across Northern hemisphere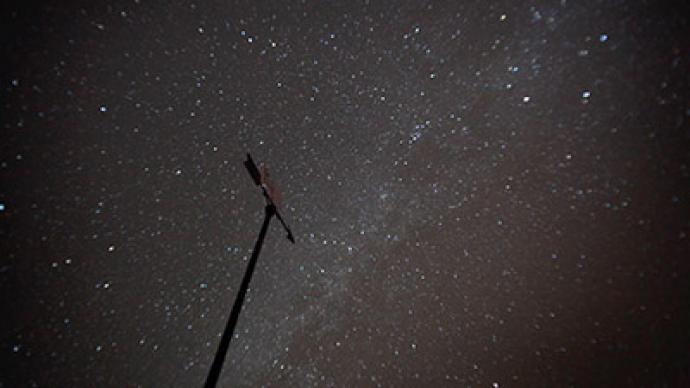 The annual Geminid meteor shower lit up the sky across the Northern hemisphere, as hundreds of fireballs and shooting stars fell overnight into Friday morning.
Usually this dazzling phenomenon, which has been seen every year since 1838, lasts for a couple of mid-December nights. This year those lucky enough to see the "falling stars" were inhabitants of central Russia, Europe, North Africa and China. These meteor showers, as studies show, have a reputation for being rich both in slow, bright, graceful meteors and fireballs as well as faint meteors. "It could be 30 [meteors] an hour, it could be 100 an hour. But those are only average figures – there may be a period of 10 minutes that you don't see anything, but equally there may be a period of 10 minutes when you see 30," Bill Cooke, head of NASA's Meteoroid Environment Office, said in a statement.
The Germinids perform excellently as a rule, but 2012 is an especially spectacular year. The 2011 display was spoiled by the bright moonlight which washed out many fainter Germinid streaks with its bright light. This time the sky was dark all through the Geminid's peak night, and watchers around the world were able to witness an awe-inspiring show of "shooting stars".The Germinid meteor shower is an annual phenomenon which happens when the Earth crosses paths with a trail of debris left by an asteroid 3200 Phaethon. The debris burns up when upon reaching the Earth's atmosphere, causing "shooting stars" to appear.   Urban dwellers would do themselves a favor by getting far, far away from the big city lights and viewing the meteor shower in wilderness , a mow that will double the amount of visible meteors, NASA experts say. No equipment is usually needed because a telescope or binoculars just narrow the view.  The Geminid shower got its name from the constellation of Gemini, the Twins. On the night of its peak the meteors start to emanate from a spot in the sky near the bright star Castor in Gemini. This shower is less known than another annual meteoric performance named the Perseids, in part because December weather often hinders a clear view of the spectacle.