GCHQ chief to step down by year's end following Snowden leaks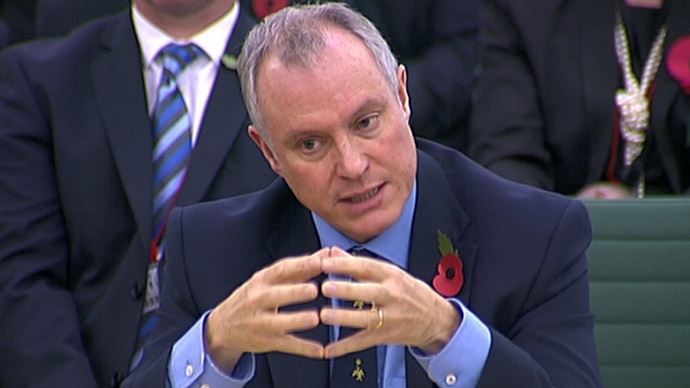 The head of GCHQ, Britain's electronic intelligence agency, will step down by year's end, the Foreign Office said. Officials denied his departure was linked to public outrage over mass surveillance revelations by NSA whistleblower Edward Snowden.
Iain Lobban, 53, has served as GCHQ's director since June 2008. His departure was officially described as a long-considered move, but comes just a few weeks after he was summoned to answer MPs' questions about surveillance operations in an unprecedented televised open session of the UK parliament's intelligence and security committee, along with the heads of MI5 and MI6.
"Iain Lobban is doing an outstanding job as director of GCHQ," a spokesperson said. "Today is simply about starting the process of ensuring we have a suitable successor in place before he moves on, planned at the end of the year."
Officials dismissed suggestions his decision was influenced by revelations made by Snowden, a former National Security Agency (NSA) contractor, whose leaks revealed details of a massive global surveillance network run by the NSA and other members of the so-called Five Eyes alliance – the US, UK, Australia, Canada and New Zealand.
Despite accounting for the bulk of Britain's three intelligence agencies' combined budget of £2 billion, GCHQ had previously attracted far less public attention than MI5 or MI6.
It was damaging media revelations regarding wide-scale collaboration between GCHQ and the NSA that resulted in Lobban being called to appear before the parliamentary Intelligence and Security Committee alongside the heads of MI5 and MI6 in November.
At the hearing, Lobban accused Snowden's disclosures of seriously damaging Britain's counter-terrorism efforts, saying extremists had discussed changing their communication methods following the revelations.
Critics, however, have accused GCHQ of working hand-in-hand with the NSA in massively intruding on the private communications of millions of citizens.
In June, the Guardian reported the NSA had secretly gained access to the network of cables which carry the world's phone calls and internet traffic, and, by 2010, was able to boast the "biggest internet access" of any member of the Five Eyes alliance.
According to media reports, the NSA and GCHQ had a particularly close relationship, sharing troves of data in what Snowden called "the largest program of suspicionless surveillance in human history."
Around 850,000 NSA employees and contractors with top secret clearance had access to the GCHQ databases, allowing them to view and analyze information garnered from such subtly titled programs as 'Mastering the Internet (MTI)' and 'Global Telecoms Exploitation (GTE).'
Lobban, who first joined GCHQ in 1983, insisted in November that GCHQ did not spend its time "listening to the telephone calls or reading the e-mails of the majority" of British citizens.
Sir Iain's counterpart at the NSA, General Keith Alexander, alongside his deputy, John Inglis, are also stepping down later this year.
There is also an ongoing campaign pushing for Director of National Intelligence James Clapper to resign for lying under oath by telling Congress the NSA did "not wittingly" collect data on hundreds of millions of Americans.
You can share this story on social media: