Gay parade request fails to excite Moscow mayor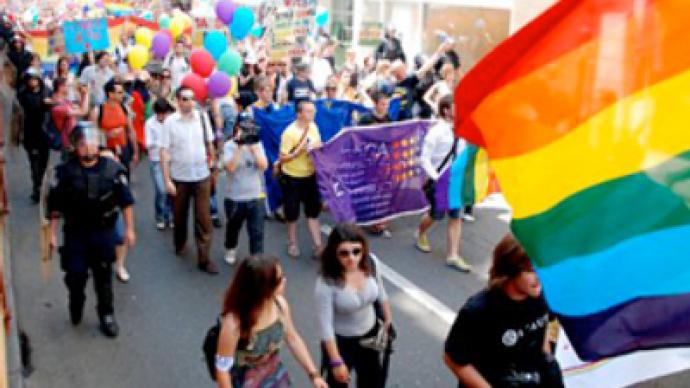 Moscow denies gay rights activists from holding a gay parade in the city center, planned to coincide with the upcoming Eurovision Song Contest. Does Mayor Yury Luzhkov enjoy the moral high ground?
"Moscow has never had gay parades and it never will," said the mayor's spokesman, Sergei Tsoy. "Not only do they destroy morals within our society, but they consciously provoke disorder that threatens the lives of Muscovites and visitors."
Luzhkov said that such an event was not acceptable in a place like Moscow, Russia.
"These type of parades may be acceptable for some kind of progressive, in some sense, countries in the West, but it is absolutely unacceptable for Moscow, for Russia," Luzhkov said.

This is not the first time that such a petition has landed on the Mayor Luzhkov's desk, only to be spurned.
In May 2006, gay rights activist Nikolai Alekseev attempted to get permission from the Moscow authorities to hold a gay parade on May 27, the anniversary of the decriminalization of homosexuality in Russia after the closeted Soviet years. He was duly refused with the explanation that such an event could draw a "negative reaction against its participants and trigger protests that could lead to violation of the public order and mass riots."
And so it did.
Alekseev and about 40 protesters decided to ignore the warning and march anyways. They did not get very far. In the center of the city, just outside of Red Square, they were greeted by a boisterous reception of Russian Orthodox believers, nationalists and the Moscow police department. In the end, Alekseev was arrested, some people were injured, and the parade ended on an unhappy note.
This year, with the Eurovision event as potential ally and rallying point, Alekseev and his followers promise to take to the streets of Moscow once again.
Not a very gay parade
The chances of a gay parade happening in Moscow, Yury Luzhkov notwithstanding, seem unlikely for several reasons.
First, the Russian Orthodox Church. In many other places in the world, where every type of parade for every type of lifestyle is marched down the throat of Main Street, religious worship is steadily declining.
In the United States, for example, where about 78 percent of the population describes themselves as Christian, a large majority of the population says that religion plays a "very important" part in their lives (According to a 2002 Pew Global Attitudes Project). Despite that poll finding, only 21 percent of Americans regularly attend church services. Meanwhile, church attendance figures throughout much of Europe (France: 15 percent; U.K.: 10 percent; Australia: 7 percent) are about half that number, and dropping fast.
In Russia, where 65 percent of the population identifies themselves as "Orthodox," religion is enjoying a strong uptick of interest. Orthodox churches, once long abandoned, converted to other uses or destroyed during the Soviet period, are now visible in every Russian town.
Although religion alone does not necessarily guarantee that the public will frown upon homosexuality, or at least its public expression, it nevertheless serves as a rallying point to "rightfully protest against the wayward protesters," as one young Orthodox priest said, speaking on condition of anonymity.
Second, thanks to Russia's 70-year fling with communism, the country is culturally homogenous and conservative, and this social indicator does not seem like it will change anytime soon. Homosexuality was forced underground in the Soviet Union, unlike today, where bars and clubs that cater to every lifestyle dot the landscape of the Russian capital.
This brings up the third reason why "gay parades" are not winning over many sympathizers in Russia: nobody is preventing anybody from enjoying whatever lifestyle they choose. In Russia, there is no such thing as a city sex brigade to regulate peoples' bedroom behavior. Moreover, there are well-known venues in Moscow [Three Monkeys, 911, Body&Soul and Dary Morya, for example] that either cater directly to "alternative lifestyles" or set aside special evenings for people who are looking for that sort of pleasure.
"I don't care what people do in their bedrooms," said Sergey, who works the door at one of Moscow's alternative clubs. "I just don't need to hear about it."
That seems to be the attitude right now to the issue of gay parades in Moscow.
You can share this story on social media: