Gay march fizzles out amid scuffles in Moscow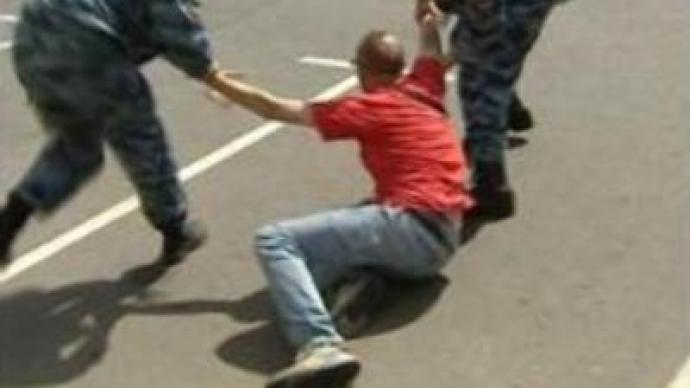 Around 30 people have been detained at a banned Gay Pride event in Moscow. Interfax news agency says criminal charges have been brought against one of the demonstrators for beating up a British citizen from the gay-rights group.
Meanwhile, in Rome, around 50 demonstrators have gathered outside the Russian Embassy calling for freedom of expression and freedom of speech in Russia. They're condemning the handling of today's events by Moscow's authorities. They're also demanding people detained outside the Mayor's office be released, including the Italian member of the European Parliament, Marco Cappato.Police say they had to step in to prevent clashes between gay activists and anti-gay protesters in which several people were injured. A demonstration by gay rights activists, who planned to present a petition to the Moscow Mayor, was nipped in the bud by law enforcement officers. Supporters of the gay community attempted to gather outside the Mayor's office in central Moscow, despite a ban by the authorities. Riot police lined the perimeter of Tverskaya Square to prevent any provocations from the crowds, which was a wise precaution as several right-wing activists and religious extremists sounded their views loud and clear.
"Death to homosexuals! I am an Orthodox believer – and that is the Orthodox position,"
one of the protesters exclaimed. Dozens of people were detained, and several were injured in the clashes. Several members of the European Parliament also got caught up in the scuffle as they attempted to present a petition to the Mayor. However, both the protesters and the activists were outnumbered even by the media. After only a few hours, nothing was left to remind of the earlier clashes. Nevertheless, the divide within public opinion is evident, and the vitriol of those opposing homosexuality shows no signs of waning. Violence broke out during last years' attempt to hold a Gay Pride march. And mainstream support seems nigh on impossible – with public figures like the Mayor Yuri Luzhkov describing the parade as 'Satanic'. What is more, even representatives of Russia's gay community say there is no need for such action for now.
"Gays don't want to parade, they don't want to march. They just want to be left alone. I mean, I feel a parade is a good thing when there is something to celebrate, it's a celebration. There is nothing to celebrate in this country,"
Aleksey Khodorkovsky from LGBT network of Russia says. The divide has stretched to within the community itself, making any resolution even less likely. And it appears that the bottom line is: this is a fight against an historic prejudice, and age-old religious beliefs. And any protest is more on principle than in the hope of actual change.
You can share this story on social media: