Gas blast tears apart wedding in Russia's south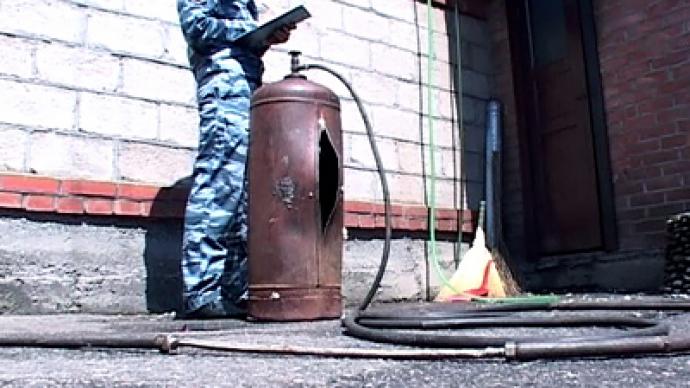 At least 55 people, including six children, were injured by a gas explosion in the Russian republic of North Ossetia. Twelve victims of the blast, including four children, were taken to Moscow to get treatment in specialized hospitals.
The number of injured has risen as more victims have sought out medical help. The blast in the capital Vladikavkaz happened at a wedding in a densely-populated residential area, where up to 10 families may have been sharing a common yard.According to Russia's Emergencies Ministry, the injured were taken to three different local hospitals.According to the RIA Novosti news agency, 20 victims in critical condition were taken to intensive care units. Two victims with burns on 100 percent of their bodies were put on artificial respirators.The injured children have been transferred to the regional children's hospital, a representative of the local emergency care hospital told the news agency. Two girls and a boy received severe burns on up to 60 percent of their bodies and are in intensive care."So far we are inclined to think that gas pressure in the cylinder due to overheating may have been the cause of the blast," Emergencies Ministry spokeswoman Yulia Starchenko told Interfax South.An Emergencies Ministry plane arrived in Vladikavkaz carrying medical specialists from Moscow. After examining the blast victims, Moscow doctors determined which victims had received severe enough wounds to require special treatment and who could still be safely moved to Moscow. The dozen injured arrived in Moscow at 6.15 a.m. local time in the Emergencies Ministry plane.Weddings in the Caucasus are traditionally big celebrations, with no less than 300 guests. Food is usually cooked outside in a yard in kettles powered by gas cylinders. Authorities believe it was one such gas cylinder that caused the explosion.Although many were injured in the explosion, the destruction reportedly could have been much worse – roughly 400 guests were invited, but at the time of the blast only 100 were present in the yard.
You can share this story on social media: