Endemic gagging: Over 300 UK police silenced with taxpayer millions – report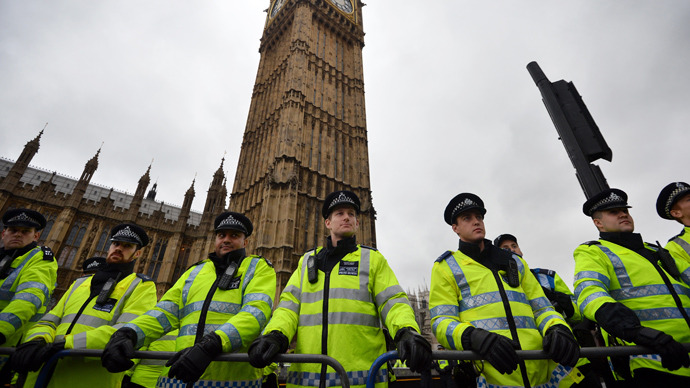 Mere months after it emerged some 14.7 million pounds (US$22.4 million) was spent on gagging UK Health Service employees, a report has exposed 13 police forces across the country signed over 300 compromise agreements with staff, spending millions.
The gagging clauses are being widely used across UK police forces, leading to concerns they are being used to ensure the silence of police employees. This would prevent them from speaking out over issues of public interest, according to a Freedom of Information survey, reported in the Telegraph.

Stephen Barclay, a Conservative member of the Public Accounts Committee, told the paper that the practice was "very concerning," going on to state that "these agreements have a clear effect beyond those who sign them because other officers with ambition will see what has happened to those who have concerns and decide to stay silent."

The 13 forces which responded to the requests for information were only the ones which agreed to provide details, meaning the actual number enforcing the confidentiality agreements is likely to be significantly higher.

The Freedom of Information requests showed that some 200 officials and civil servants put their name to compromise agreements over the course of two years, costing some 14 million pounds. Additionally, 4,500 local authority workers entered similar arrangements.


Compromise agreements are a legally-binding deal, usually surrounding the termination of employment, during which soon-to-be former employees are provided with a hefty sum, providing they do not pursue any claims against their employer, thereby preventing possible complaints.

Such compromise agreements frequently involve 'confidentiality clauses', meaning the terms of the agreement cannot be revealed, and sometimes, alongside some or all aspects of the employment.

Signatories have in the past been specifically instructed not to air any previously-aired concerns with the press.

Lancashire Constabulary had the highest incidence, reporting 34 signings. Surrey Police's 28 agreements over the course of three years have cost the taxpayer some 614,000 pounds.
Greater Manchester Police confirmed to the paper that 14 agreements had been signed in the past three years, with a further 17 being signed by Nothumbria Police.
London's Metropolitan Police is also implicated, having gagged 230 of its police officers over a seven year  period, with its former head of human resources, Martin Tiplady, being handed 259,462 pounds after he put his name to one of the agreements. The former commissioner, Sir Paul Stephenson received 176,838 pounds in a single payment: more than 1.8 times his annual salary.
James Patrick, a constable in the Metropolitan Police, was investigated for gross misconduct and told not to use Twitter or his blog last December, after he expressed concerns over the impact of the cuts on the force.
"This is someone who has tried to raise his concerns through the legitimate channels, but was not able to do so," his lawyer Karen Todner told the Guardian at the point of investigation.
"They are gagged in the NHS, arrested in our police forces and blacklisted in many industries," Cathy James, chief executive of the charity Public Concern at Work told the Guardian earlier this week, prompting calls for a review of legislation.
In the case of the NHS, potential whistleblowers have been gagged, threatened and stopped from raising concerns pertaining to patient safety.
Barclay told the Daily Mail earlier this year that NHS gagging clauses were having "having a chilling effect on whistleblowers," saying that "hundreds of potential whistleblowers may have been prevented from speaking out for fear of legal action." The former chief of United Lincolnshire Hospitals Trust, Gary Walker, revealed in February that he received a 500,000-pound 'super gag' in 2010. The money was offered in exchange for keeping silent regarding his belief that his hospital was a threat to patient safety.
You can share this story on social media: