Gaddafi only obstacle to peace – Libyan transitional council head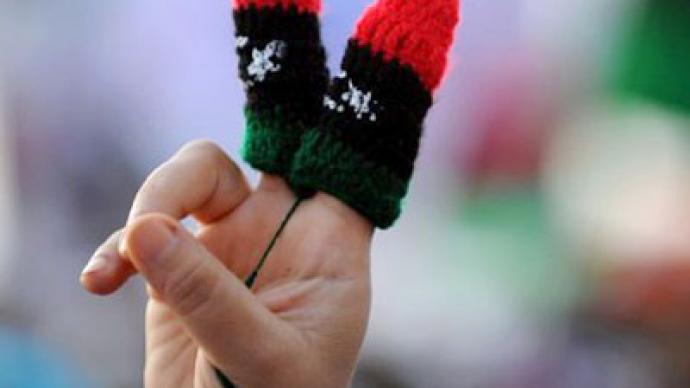 While the world leaders attempt to map out a settlement of the Libyan conflict, The Chairman of the National Transitional Council Mustafa Abdul Jalil spoke to RT about his vision of peace in Libya.
Speaking of the possibility of a dialogue between the rebels and government forces, Abdul Jalil pointed out that the main requirement for the rebels is that Muammar Gaddafi and his sons should leave Libya, saying they are the only obstacle to peace."It's him [Colonel Gaddafi – RT] who's a threat to the civilian population and humanitarian organizations. Once he stops playing this role, the prospect of a dialogue through an intermediary will open up," said Abdul Jalil. Abdul Jalil also added that the rebels are ready to cooperate with some members of the present government both now and in the future. "We are not against a dialogue with those who love their country, have good intentions and act transparently in order to secure a promising future for Libya. Among those who served on the previous government, there are many reputable people with whom we are ready to have a dialogue so that they can become members of the executive bodies of the future Libya."The Chairman of the Transitional Council also outlined Libya's political future after Gaddafi steps down, promising Libya will fulfill all its international and domestic obligations once it becomes a democratic state. "We have our roadmap through which we will form the National Congress which will be elected by citizens of all the Libyan cities and villages based on the principle of proportion, in other words, depending on the number of people living there. The National Congress will form an interim government to be in charge of executive power in the country and will also form the Constitutional Commission which will work out the Constitution to be adopted during a referendum."Abdul Jalil noted that the work of the incumbent National Transitional Council will continue for not more than a year after the country is liberated. As for the present struggle against Gaddafi, the persistence of the rebels and the international support are of primary importance, claimed Abdul Jalil. "First of all, we rely on God's help and on the willpower, patience and determination of the militants. Apart from that, we count on the political pressure of the international community which is constantly demanding Gaddafi's resignation. The coalition's air strikes are of great help to us too – with their help we protect civilians," said Abdul Jalil. Abdul Jalil concluded by saying he hopes for a peaceful future for Libya. "We are hopeful that we will be able to have a constructive dialogue with the Gaddafi regime to stop the bloodshed and implement the revolution's aspirations that Gaddafi and his sons leave the political arena in Libya".
You can share this story on social media: