French FM Fabius: Russia's participation in G8 meetings suspended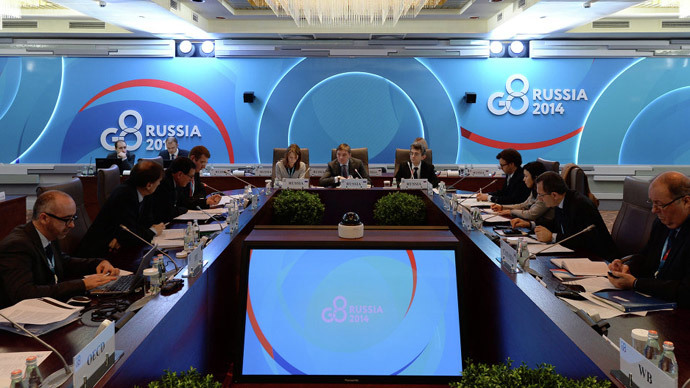 Foreign Minister Laurent Fabius has said the Group of Eight suspended Russia's participation in their meetings. However, President Putin is still invited to visit France on June 6.
"At the moment, he is still invited. As for the G8 as a political formation for the dialogue of all big states together, we have decided to suspend the participation of Russia, there will be seven countries that gather [for the summit] – without Russia," Fabius told Europe 1 radio.
France plans to hold a grand celebration of the 70th anniversary of the Allied Forces landing in Normandy.
#Ukraine#Crimée Pour le 6 juin, le président reste invité mais pour le G8 nous avons décidé de suspendre la participation de la #Russie

— Laurent Fabius (@LaurentFabius) March 18, 2014
Following Sunday's referendum in Crimea in which over 96 percent of the population voted to join the Russian Federation, the US imposed sanctions against 11 Russian and Ukrainian officials. The EU, in its turn, applied sanctions against 21 officials.
French defense and foreign ministers postponed their visit to Moscow that was scheduled for Tuesday in attempt to de-escalate the crisis in Ukraine.
Fabius called the crisis the biggest since the end of the Cold War, but called for calm.
"We want firmness to prevail and for Putin to not go any further, but at the same time we want to de-escalate the situation via dialogue," said Fabius in an interview with France 2 television on Monday.
If Russia expanded its influence into the eastern Ukraine, then "there will be a reaction, including with force", Fabius told France 2 TV, quoted by Reuters. "Ukraine has already mobilized some people and we cannot allow Russia to do simply anything."
However, several Russian officials who were included on the list noted that they didn't have any property or assets abroad.
Earlier, the EU list was announced, including 13 Russians and eight people from Crimea. The sanctions were visa bans and financial restrictions.
The EU sanctions are to be in force for six months, said Federica Mogherini, Italy's Minister of Foreign Affairs, after EU ministers and officials met in Brussels.
However, some top officials think that the current measures will see both Russia and the world community suffer.
"We are all reluctant to impose sanctions because Russia will probably respond and we'll all suffer as a result. But Russia is leaving us no choice. And the European Council has decided, if there is no movement on Russia's part to correct the position, then I'm afraid we'll have no - no choice on Monday," Poland's Foreign Minister Radoslaw Sikorski said.
The Argentinian president Cristina Fernandez de Kirchner pointed out that the reaction illustrates double standards of the West.
"It's impossible to continue trying to present oneself as the guarantor of the global power when basic criteria are picked depending on the country that's involved. In the case of the Crimean referendum, it turns out it's bad, and if the Falkland Islands want their self-determination, it's good. It doesn't stand up to any scrutiny," she said.
You can share this story on social media: