Fukushima nuclear workers stage low pay protest against Tepco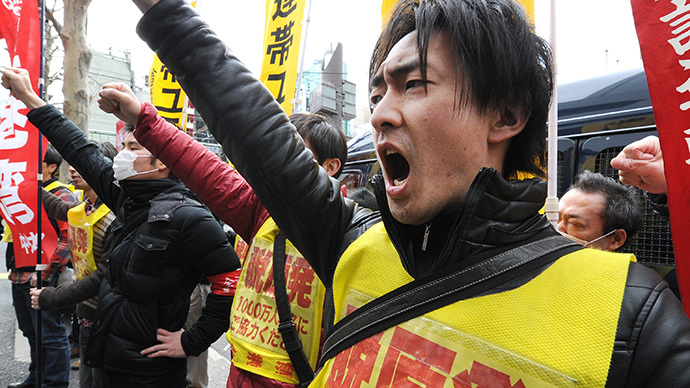 Workers who helped to clean up the crippled Fukushima nuclear plant rallied outside the headquarters of operator Tepco on Friday, protesting that they were forced to work for low pay in dangerous conditions.
Among a group of about 100 demonstrators, some said that contractors were hired to find cheap laborers who could easily be fired, AFP reports.
"Workers at the Fukushima plant have been forced to do unreasonable tasks. They tend to make easy mistakes under the pressure, but it's not they who are at fault – it's the conditions that force them to do terrible tasks," one man, who did not want to give his name, told AFP.
Demonstrators also rallied outside Maeda Corp on Friday, one of the contractors hired to clean up the plant and surrounding areas.
In the web of confusing contractors and subcontractors who have worked at Fukushima, many are concerned at the working conditions people are subjected to.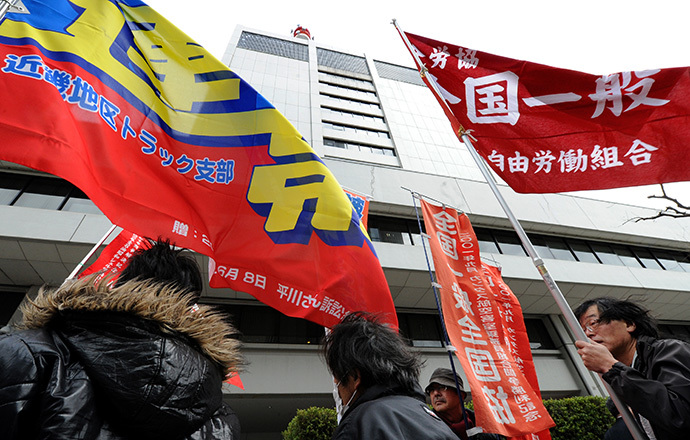 Some protesters said they had received less money than promised as bosses docked pay checks for supplying meals, transport and other expenses. Many also said that they had not received a $98 daily premium for carrying out the dangerous decontamination work.
"Most people are working for small pay without getting the special compensation," said a 51-year-old man who was working near the plant.
Several thousand people are working on the site, making repairs and buildings tanks to store the huge amounts of water which have been used to cool the damaged reactors. Decontamination work is expected to take decades and work has not even started on dismantling the destroyed reactors and fuel ponds.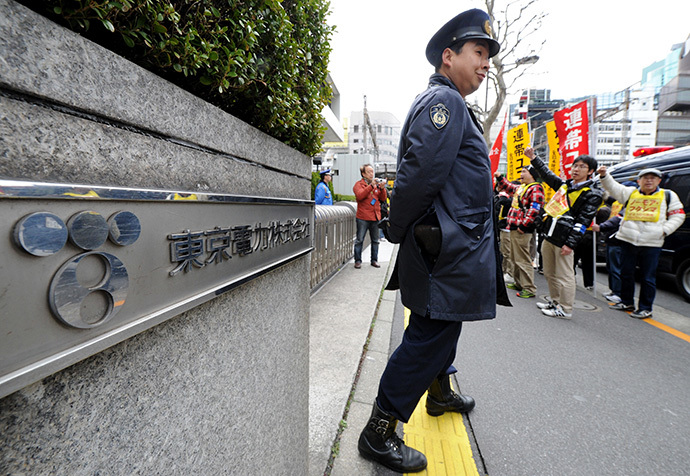 On Thursday, two reactors in the Kagoshima Prefecture in the south of the country were put on standby for a possible reopening, with further safety tests required. But it remains to be seen if the nuclear industry and win over the local population and local officials who are wary about nuclear power in the aftermath of the 2011 Fukushima disaster.
Japan's 50 atomic reactors have all been shut down since the disaster.
It is now just over three years since a tsunami poured into the Fukushima nuclear plant knocking out emergency generators and sending the reactors spinning into meltdown.
Robert Jacobs, a nuclear historian, told RT that, as many of the highly skilled engineers and scientists have already reached their maximum permitted radiation doses, Tepco is relying on unskilled manual laborers.
"You have a lot of temporary workers, many of whom are not being paid adequately by the some contractors that are hiring them, they have no experience at all, they are sent in for very short periods of time to do manual labor that they really have no training to do," he said.
You can share this story on social media: