Plan to plug radioactive water leak fails at Fukushima plant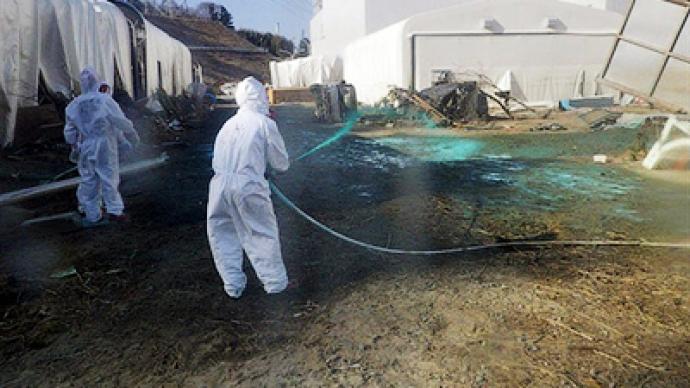 Attempts to fill in a crack with concrete at Japan's damaged Fukushima-1 nuclear power plant have failed, with radioactive water still leaking into the Pacific Ocean, NHK TV reports.
The channel noted that efforts to stop the leak began on Saturday and continued on Sunday, without yielding the expected results. The leak is so big that the concrete simply cannot harden. It could take several more months to bring Japan's tsunami-ravaged nuclear plant under control, Yukio Edano, Japanese Chief Cabinet Secretary said Sunday, as quoted by Kyodo news agency. The operator of the plant, Tokyo Electric Power Co is now going to use a special absorbent polymer to plug the leak. The company also plans to pump out the radioactive water from the basements of the plant. On Saturday, the company admitted that seawater near the plant was contaminated because of the leak at reactor 2.The operator also plans to repair the plant's cooling system by filling the reactors with freshwater. The earlier idea of using seawater was rejected as there were fears it might lead to corrosion of the reactors' structures. Meanwhile, the bodies of two Fukushima plant workers that had been missing since the quake and tsunami have been found, Kyodo news agency said on Sunday.Previously it had been reported that no one had died at the Fukushima plant as a result of the natural disasters.The bodies were discovered on March 30, but first they had to be decontaminated from all the radiation they had been exposed to.The troubles at the Fukushima-1 plant began after the earthquake and tsunami hit Japan on March 11. The failure of the cooling system led to explosions at some of the plant's reactors, putting Japan on the verge of a nuclear catastrophe.The death toll from the natural disasters has already exceeded 12,000, with more than 15,000 still considered missing.
You can share this story on social media: