TEPCO 'finds crack' in Fukushima's water tank after huge sea leak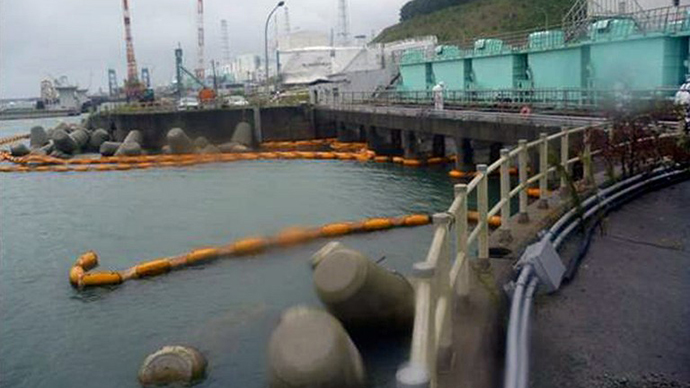 Workers from Japan's TEPCO Fukushima Daiichi plant have located a crack in the bottom of a tank that may have leaked 300 tons of radioactive water in August, Japanese media reports. This comes as the company seeks to reopen another nuclear plant.
The water that was being pumped into the tank at the Fukushima Daiichi nuclear plant could have caused the existing gap to expand and likely led to the massive leak, TV channel NHK reported. The leak which sparked the crisis came from one of the 1,000 above-ground storage tanks built inside the plant by Tokyo Electric Power Company (TEPCO). The company promised to continue their investigations.

Moreover, silt fences intended to prevent soil containing radioactive substances from slipping into the ocean were found to be damaged on Thursday. The damage was found close to the buildings of the fifth and sixth units, NHK reported. Both were on cold shutdown for planned maintenance, thereby managing to avoid meltdowns.

A TEPCO spokesman said that the area was not a danger zone. "Radiation levels in this area's seawater are very low, and no contaminated water tanks are placed near reactors 5 and 6," he told AFP.

The fence is also designed to prevent radioactive material emerging from damaged units 1, 2, 3 and 4, where another separate fence is set up. It was damaged in April by rough waves and bad weather.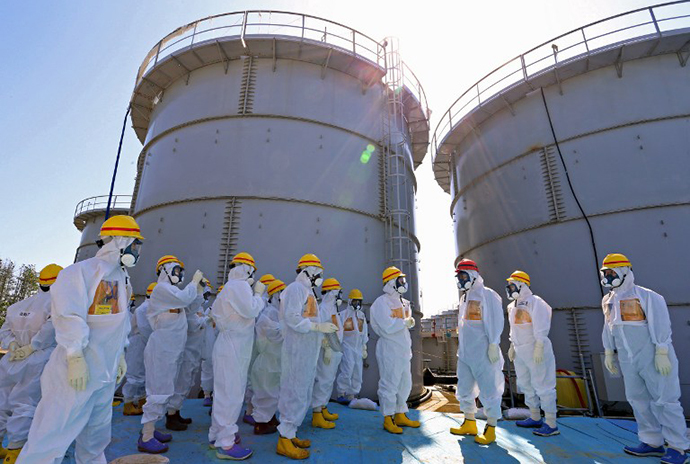 All of Japan's 50 nuclear reactors were shut down following the 2011 earthquake and tsunami which wreaked havoc at Fukushima and sparked a nuclear crisis in which meltdowns occurred in three reactors.  It was considered to be the world's worst nuclear accident since the Chernobyl disaster in 1986.

Following the devastation, the public outcry over the persistent usage of nuclear power in Japan has prompted protests, drawing thousands in some cases.

Some rallies have drawn links and comparisons to the nuclear bombs at Hisoshima and Nagasaki, dropped by the US on Japan in 1945, at the end of World War II. These have been dismissed by officials as distasteful, and perhaps even histrionic.

"Our position, and this is a position we can never compromise on, is that nuclear weapons are an absolute evil," Hiroshima Mayor Kazumi Matsui said in an impassioned interview with AP at City Hall. "I oppose connecting the two, simply because they both involve radiation."

The Hiroshima and Nagasaki bombs killed some 140,000 people, and while nobody has yet been known to die from exposure to the Fukushima radiation, the disaster, which involved a massive earthquake and tsunami, caused the deaths of nearly 20,000 people.

Additionally, the long-term health toll is yet to be seen. The Japanese government has already detected 44 confirmed and suspected cases of thyroid cancer among 217,000 children (aged 18 and under) who have been checked in Fukushima.

Despite the protests and opposition, there are still plans in place to restart plants.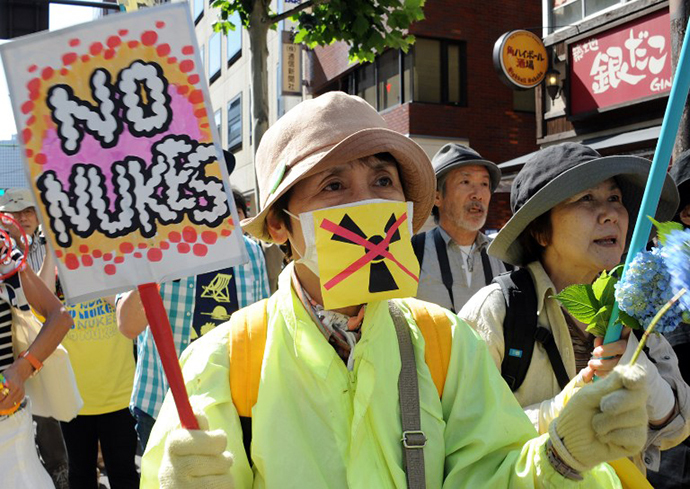 On Thursday, TEPCO received approval to restart the Kashiwazaki Kariwa plant in the western Niigata prefecture, which has been central to the company's turnaround plans following the Fukushima disaster in 2011.

The governor of the prefecture said that he was allowing the utility to apply for safety approval, despite previous statements declaring that TEPCO was not fit to run a nuclear plant.

"The Kashiwazaki Kariwa nuclear power plant may be halted but it is a living facility, and safety must be ensured at the plant," Governor Hirohiko Izumida said in a statement faxed to Reuters. It was released a day after a well-publicized appeal from the president of TEPCO.

However, the final judgment on whether getting the plant will be back up and running again is still being withheld.

Prime Minister Shinzo Abe returned to power last year, and is a firm proponent of nuclear power. It is thought that under his watch, idled reactors may be restarted again. However, TEPCO itself is behind schedule with its own plans, and since the disaster has had to deal with the knowledge that radioactive water has been leaking into the Pacific Ocean ever since the accident.

Abe has told TEPCO to outline a timeframe for handling the leaks. TEPCO is currently preparing to test a new filtration system, beginning Friday. The company's plans to install more efficient cleaners have been challenged by the NHK channel.

While the company would like to increase capacity for cleaning from 500 tons of water per day to 1,500 tons per day, the system is apparently not capable of removing radioactive tritium from contaminated water.

You can share this story on social media: