From sorrow to surrogacy: Grandmother fights for late son's kids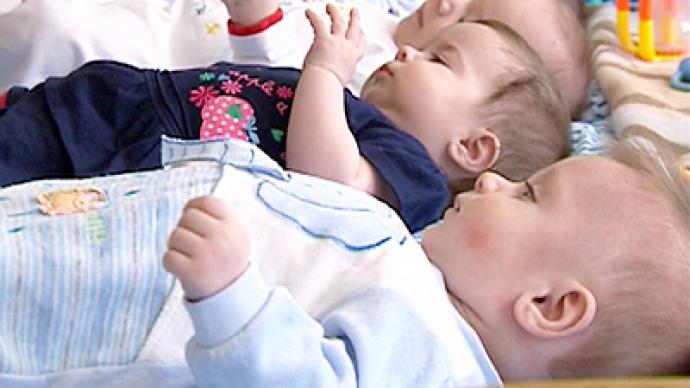 A Russian woman is keeping her late son's legacy alive by using his frozen sperm and surrogate mothers. But she is battling the courts and society's attitude to be recognized as the guardian of her four baby grandchildren.
It was only at 57 that Lamara Kelesheva understood the true meaning of having her hands full. An accomplished scientist, a wife of three decades and also a devoted mother, but none of these roles kept her as busy as she is now. Her tragedy is she became a grandmother only after she had lost everything else. "The death of my son created a hole in my life that will never close," Lamara told RT.  "But the birth of my grandchildren certainly provides some solace. It's God's gift to me". Lamara's son died of cancer three years ago. But before his first chemotherapy session, doctors conserved his sperm. With the help of surrogate mothers, two sets of twins were brought into the world.Lamara's husband left her. Her scientific career was put on hold. Yet, Lamara says they are all trifles compared to the bereavement brought about by her son's death. "It is love which is fed by grief but it's love nonetheless, "she explains. "Three years ago I couldn't imagine myself even smiling, let alone laughing or singing songs, but the little ones pulled me out of this abyss of despair." With her large family's support, Lamara says she has no financial or parental concerns about raising her grandchildren. Her main problem now is the reluctance of the Russian state to recognize her as the mother of these children and her deceased son as their father. Lamara has taken the issue to court, with a ruling expected on Wednesday. Her lawyer Konstantin Svidnev believes the law is on their side.   "According to Russian law, there are no limits on who can become a parent through the use of surrogate motherhood," Svidnev told RT.  "Of course cases like this one are still very unusual in Russia. That's why some registration offices or court officials may be baffled and refuse to register children but the law is definitely in our favor." Lamara is the third woman in Russia who used the sperm of her deceased son to continue the family's lineage. Yet, whether it is due to her age or the sheer number of children involved, her story has got many Russians questioning the ethics of this kind of parenting. "All these exercises in biomechanics ultimately lead to this very ambiguous situation when you can't really tell the difference between a son and grandson," says pro-life activist Andrey Khvesyuk. "There are so many orphans in Russia so if she just wanted to be a mother, she could've easily realized her maternal instincts…  I think ultimately it's a very selfish drive to pass your genes, no matter what".But Lamara could not care less about societal attitudes. Too much suffering from the loss of her only son persuaded her that there was no such thing as too many grandchildren. Russian law has no age cap for people willing to adopt children; the only caveat is that a potential parent should be at least 16 years older than the child. In Lamara's case, this age difference is almost 60 years, which doesn't sit easily in a country where most people become parents before they turn 30 and where raising even two kids is often seen as a handful.
You can share this story on social media: