Finding ways out of infertility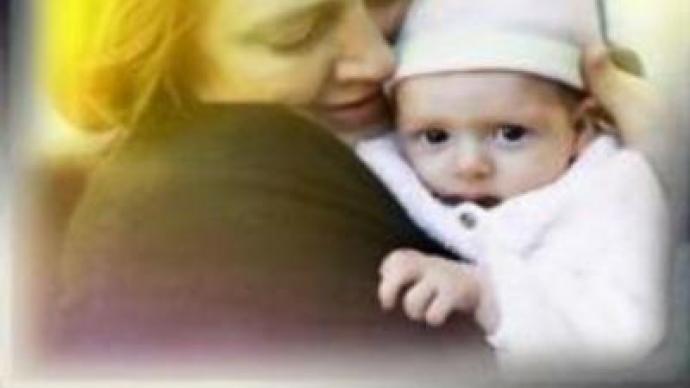 Birth rates in Russia have become a political issue but for some women it strikes a bitter personal note. For those who can't have children the situation often seems hopeless, however, there is hope in the hands of those who can.
For some it is a cure and for others a blessing. But for almost all, surrogacy is a last chance. In Russia surrogate motherhood is becoming a popular way to battle infertility. More and more clinics are specialising in procedures and the number of participants is growing.There are two well-known forms of surrogacy. A woman can be the child's genetic mother and give birth in order for others to raise the child. Or she may be implanted with someone else's fertilized egg.But in Russia by law a surrogate mother cannot be genetically linked to the child she gives birth to."Sweet Child" is a surrogacy firm in Moscow, which helps women who are dealing with infertility to find surrogate mothers.
"By law a surrogate mother has to have her own children, which ensures she knows what she is agreeing to. The most important thing is that she is healthy and psychologically stable,"
stresses Sergey Lebedev, a "Sweet Child" director.Cases vary. Some parents get to know their surrogate mothers others choose not to.
"Sometimes parents choose to live with their surrogate mother others ask specifically not to ever meet their surrogate. In that case we become the only means by which they communicate,"
Sergey Lebedev explains.For many surrogate mothers carrying a child is their way of making a living. In Russia the procedure can cost about $US 60,000 over all and they make on average about $US 20,000 per birth.There is still some debate over the ethics of surrogate motherhood that is part of the reason it is almost impossible to find a woman that has been or who is involved in the procedure to openly talk about their experience-especially genetic mothers many of them are trying to protect the child they are raising.
"My parents know and the closest of my friends but no one else knows about my pregnancy. Some people think it is morally wrong they don't understand that genetically this is not my child,"
a surrogate mother says. She hasn't decided if she will continue to commit herself to another pregnancy and for now she sees nothing wrong with making money by helping someone in need.Giving a gift they will cherish for a lifetime.
You can share this story on social media: