Frankfurt banks surrounded in anti-austerity 'Blockupy': LIVE UPDATES
Thousands of anti-austerity protesters have flooded the streets leading to the European Central Bank in Frankfurt in a so-called 'Blockupy' protest. They are demonstrating the bank's role in enforcing crippling spending cuts across the Eurozone.
14:55 GMT: Blocupy protesters in Frankfurt airport holding banners welcoming refugees into the country. Many are opposed to Germany's decades' long third-country regulation, in which any immigrant who arrives in any EU member state or one many neighboring countries are deemed as safe. As a result, Germany does not need to accept asylum applications from such people. Activists have also accused the German government of being unwilling to take in Syrian refugees in significant numbers. 

"Füchtlinge sind willkommen" steht auf einem der #Blockupy-Transparente im Flughafen. twitter.com/hronline/statu…

— hr-online (@hronline) May 31, 2013
13:49 GMT: Delays have been reported at Frankfurt International Airport, although it is unknown if the ongoing protests are to blame.
#Update Flight delays for passengers this afternoon at #Frankfurt Intl Airport #Germany.Check with you airline for latest flight timings

— Simply Airlines (@SALatestNews) May 31, 2013
13:38 GMT: Having reached the court-allowed limit of 200 protesters inside of the terminal, many of the demonstrators remain outside the building with a police cordon keeping them at bay. Activists have tweeted that anywhere between 200-800 protesters are currently blocking Frankfurt Airport Terminal 1, although those number remain unconfirmed.


#Blockupy: 200 Demonstranten sind im Terminal 1. Die anderen setzen draußen die Kundgebung fort. twitter.com/fnp_zeitung/st…

— FNP Frankfurt (@fnp_zeitung) May 31, 2013
13:18 GMT: Blocupy protesters outside of Frankfurt holding a banner opposed to Germany's immigration policy.

13:37 Erste Bilder vom Flughafen erreichen uns #Airport#Frankfurt#Blockupy#Action#J1 twitter.com/Blockupy/statu…

— Blockupy (@Blockupy) May 31, 2013
12:00 GMT: 
13:46 People sit and block the entrance to Terminal 1. We insist on our right to demonstrate#blockupy twitter.com/Blockupy/statu…

— Blockupy (@Blockupy) May 31, 2013
11:56 GMT: Blockupy plans to assemble outside of the airport to protest against German immigration policies and what activists have decried as an "inhumane deportation system." Fraport, the airport operator, has advised passengers to arrive early for their flights.

11:46 GMT: Security has reportedly been stepped up at Frankfurt airport in preparation for the arrival of the 'Blockupy' demonstrators.

11:24 GMT:"A fountain in the Zeil district of Frankfurt has been dyed red with detergent and raspberry syrup," Tweeted public broadcaster Hessischer Rundfunk.

Der Brunnen auf der Zeil - mit Spülmittel und Himbeersirup rot gefärbt. #Blockupy twitter.com/hronline/statu…

— hr-online (@hronline) May 31, 2013

10:54 GMT: 500 protesters have gathered outside Deutsche Bank where police tanks have been deployed to protect the building. The demonstrators take issue with Deutsche Bank's policy regarding food price speculation which critics say bumps up prices for consumers.

«@thecitizen_de German Police tanks protecting Deutsche Bank HQ in Frankfurt from peaceful #Blockupy protestors: twitter.com/hronline/statu…#1j

— Angelika Beer (@piratenbeer) May 31, 2013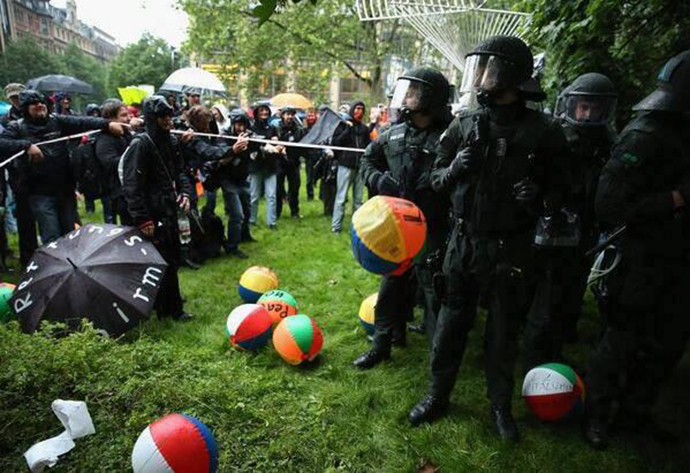 10:22 GMT: The 'Blockupy' protesters are now separating and heading for Deutsche Bank headquarters and Frankfurt airport.
Here we go! #blockupy deportation airport twitter.com/umsganze/statu…

— ...umsGanze! (@umsganze) May 31, 2013
10:20 GMT: German police estimate that around 2,500 protesters have gathered in front of the European Central Bank. They have not reported any arrests.

10:18 GMT: Eurostat data shows that the crisis is deepening, and that nearly one in four young people in the Eurozone are jobless. The combined EU unemployment rate is 23.5 percent. Germany's rate is the lowest at 7.5 percent.
It's not about a bigger slice of the cake. We want the whole bakery! #blockupy twitter.com/maralkon/statu…

— Martin Konecny (@maralkon) May 31, 2013
10:01 GMT: Eurozone employment figures released, hitting record high at 12.2 percent in April.
09:53 GMT: The ECB spokesman told The Guardian that the Blockupy protests have not disturbed
day-to-day operations at the bank, but would not specify how many bankers
managed to come to work.
9:31 GMT: Blockupy spokesman Ani Diesselmann announced, "The blockade is standing.
The business of the ECB is successfully disrupted."
The ecb is blocked! Togehther against the troika! Our stance aginst the austerity politics all over Europe #Blockupy#ECB#1J#EZB

— Blockupy (@Blockupy) May 31, 2013
You can share this story on social media: