ECB slashes interest rates to historic low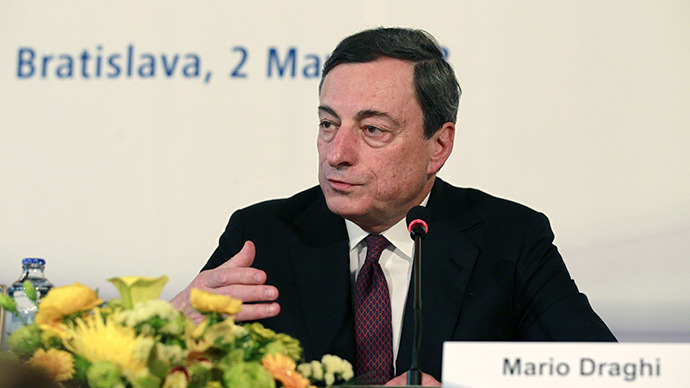 The European Central Bank (ECB) has cut its refinancing interest rate to a record low of 0.50%, in a bid to kick-start the eurozone's sluggish economy, but the change is thought unlikely to filter down to crisis-stricken Mediterranean states.
The anticipated cut from 0.75% was the first since July last year, and came on the back of a raft of poor economic news in the 17-member eurozone. Figures released earlier this week showed unemployment in the area at an all-time high, inflation at a three-year low, and manufacturing declining in April.
"Weak economic sentiment has extended into the spring of this year," ECB president Mario Draghi said during a press conference following the announcement in Slovakian capital Bratislava.
"The cut in interest rates should contribute to support a recovery later in the year,"
Economic analysts broadly agreed that the measure was unlikely to play a big part in reviving the worst eurozone strugglers, due to the failure of 'transmission mechanisms' – the means by which the central policy decisions affect the end customers. In Greece, Cyprus and other recession-hit economies the banks are still likely to be reluctant to lend money to businesses as fundamental conditions remain grim and confidence is low.

"The ECB is playing it safe, even though they know the effect is likely to be limited," said Nordea analyst Anders Svendsen.
"The key for the market is the tone. If the ECB comes out with other measures as well to help SME (small and mid-sized enterprise) lending that will be positive but if they say the cut was all they had, I think there will be disappointment."
Draghi said the ECB "will monitor very closely all incoming information", which in the past has meant that more measures may be in the pipeline.
"Ultimately, we think the ECB will have to purchase private-sector assets in order to fix the transmission mechanism," Andrew Bosomworth at PIMCO, the world's largest bond fund, told Reuters.
Asked by journalists as to whether governments should abandon austerity in favor of credit-financed stimulus, Draghi stood firm, warning against "unraveling" the accomplished deficit-slashing steps, and reminding the audience that high debt was the source of the crisis. He did, however, concede that taxes in certain European countries may be "too high", hampering demand.
Draghi aside, after several years of belt-tightening without growth, the tide in Europe appears to have turned against austerity, with European Council President Herman Van Rompuy echoing the sentiments of French and Italian leaders in a separate press conference on Thursday.
"Taking measures [to promote growth] is more urgent than anything," Van Rompuy told reporters in Portugal.

"After three years of firefights, patience with austerity is wearing understandably thin."