'Best way to get rid of Assad': France urges strong UN resolution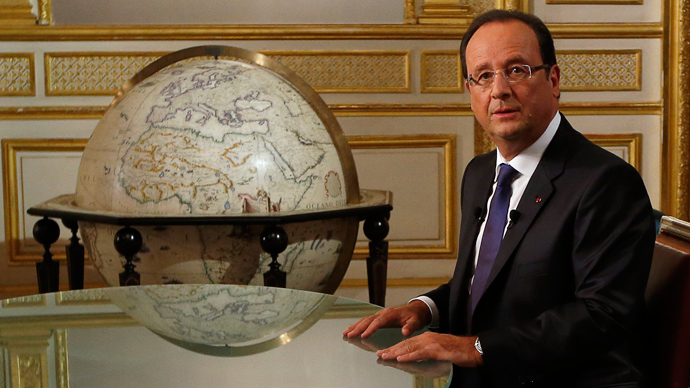 France is urging an early UN vote on a resolution to support the Russian-US initiative on Syria. President Hollande insists the option of a military strike must remain on the table, otherwise there will be "nothing to stop Syria."
"We can vote on this resolution before the end of the week," French President Francois Hollande told local TF1 television, adding that the proposal "must include the threat of sanctions."

Hollande noted that the Russia-US agreement reached over the weekend was an "important step" towards a political solution to the Syrian conflict and offers the "best way to get rid of" the Syrian President Bashar Assad.
"We can now seriously think of a diplomatic solution, but the military option must remain. Otherwise there is nothing to stop Syria," Hollande said as cited by Reuters.
Foreign Ministers of France, Britain and the US are expected to continue their resolution discussions and shaping the document at talks scheduled in Paris on Monday, Hollande said. After the wording of the draft is shaped, French Foreign Minister Laurent Fabius will discuss it with his Russian counterpart Sergey Lavrov.
Over the last couple of weeks, the three allies have reportedly been in continuous consultations over the text of the draft. The strong wording of France's initial draft resolution was already weakened prior to the announcement that Russia and the US reached a landmark deal on destruction of Syria chemical weapons arsenal. 
The current French draft reportedly calls for imposing "further measures" under the Chapter VII of the United Nations Charter only if the international inspectors consider the Syrian government is not complying with its obligations.
Although potential Chapter VII sanctions were indeed mentioned during the talks of Russian Foreign Minister Sergey Lavrov and his US counterpart John Kerry in Geneva, each case of suspected non-compliance – such as attacks on UN inspectors – would be discussed separately at the UN, Lavrov insisted.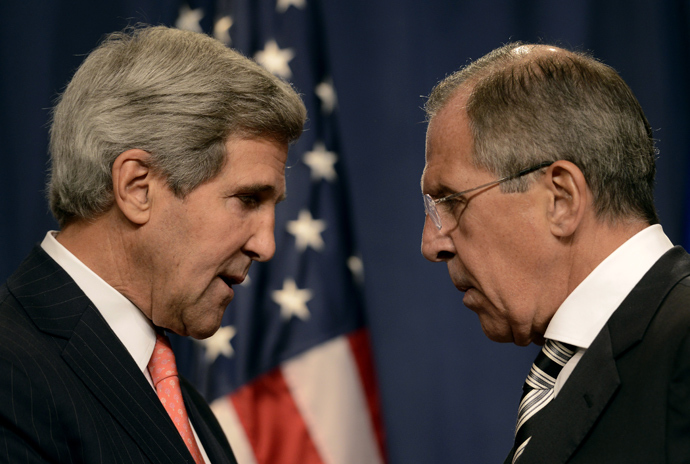 Since the plan to take Syrian chemical stockpiles under international control was first announced, Syria has supported the initiative. Last week Damascus filed all the necessary paperwork to join the Chemical Weapons Convention, which will now enter into force for Syria on October 14, the UN press office said.
The initiative was welcomed by the international community, with the US however reserving a right to consider a military action unilaterally if diplomacy fails in Syria. The Syrian opposition also expressed doubts that the initiative on chemical weapons will help solve the conflict and pledged to continue fighting until the Assad government is toppled, calling on the international community to force the Syrian Army to stop using its air superiority.
Meanwhile, the chemical weapons inspection team has finished its report on the August 21 chemical attack and is expected to present it on Monday. The report will be discussed in the UN Security Council in the presence of the team head Ake Sellstrom to make sure its contents were not altered to represent one side of the story, Lavrov said on Saturday. He added that after the discussion it would be necessary to send the team back to Syria to investigate the earlier cases of chemical weapons usage in which opposition fighters could be implicated, as a 100-page Russian investigation report submitted to the UN in July would seem to suggest.
You can share this story on social media: