France submits Syria UN resolution with 'further measures' on the table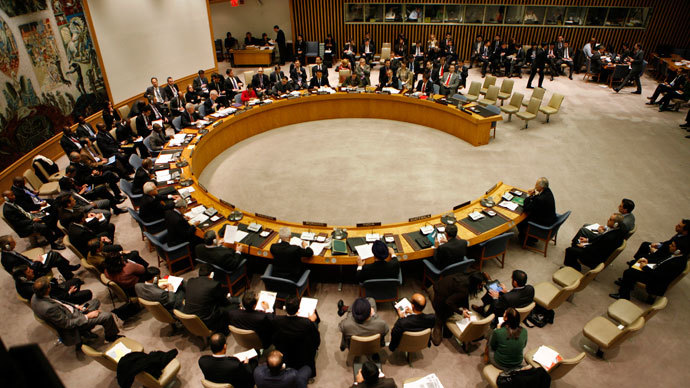 The international community would enforce "further measures" under Chapter VII of the Security Council, in case Syria fails to pass a "continuous review" of the chemical disarmament process, the draft UN resolution submitted by France suggests.
The French resolution demands that the Syrian government provides "unfettered access to its chemical weapons sites" and allows "international inspectors to make surprise visits to locations of their choice," according to al-Arabiya.

The UN supervisors deployed in Syria would "oversee the dismantlement and destruction of all elements" of the chemical weapons program to prevent the possibility of its production or usage in the future.
According to the draft, Syrian chemical weapons stockpiles are supposed to be placed under international control immediately after the UN resolution is adopted to ensure that there is no more production, use or transfer of chemical weapons. The draft also sets a 90-day deadline for all political parties in Syria to sit down and form a transitional government. 
After the consultations between the United States, France and Britain the strong wording of France's initial draft resolution was reportedly weakened to call for imposing "further measures" only if the international inspectors considered the Syrian government was does complying with its obligations.
Meanwhile, US officials indicated that the UN Security Council resolution on Syria's chemical weapons was unlikely to include any provisions threatening possible use of military force.
The United States would instead insist that the resolution include a range of consequences, such as stricter sanctions, the officials told Reuters on condition of anonymity.
However, US officials have not backed down from pushing a non-military sanctions provision under Chapter VII. 
Chapter VII of the United Nations Charter allows the UN Security Council to "determine the existence of any threat to the peace, breach of the peace, or act of aggression" and to take both military and non-military action to "restore international peace and security." 
Russia and China holding veto power in the Security Council have already used it three times to block Western resolutions with potential backdoors for direct military intervention in the Syrian conflict.
Meanwhile, during the second day of talks between US Secretary of State John Kerry and Russian Foreign Minister Sergey Lavrov, the parties have agreed the only solution to the ongoing Syrian crisis lies within the framework of the "Geneva-2" peace talks. Russian President Vladimir Putin also recently said the proposal could only succeed if the US and its allies calls off military strikes.
The meeting between Russian and US teams is reaching its "pivotal point" and will continue on Saturday, RIA Novosti cited a source in the Russian delegation as saying.
You can share this story on social media: