French PM Ayrault resigns after Socialists lose local elections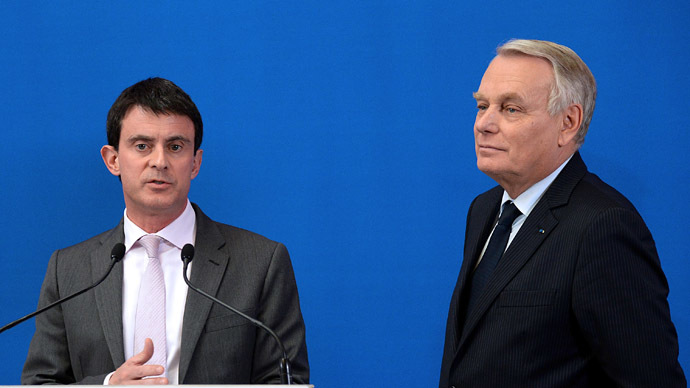 French Prime Minister Jean-Marc Ayrault and his team have resigned after the Socialist party's poor result in the local elections, the Hotel Matignon stated. The cabinet will be headed by Interior Minister Manuel Valls.
French President Francois Hollande named Valls as his new Prime Minister in a televised speech on Monday night. He also proposed a "solidarity pact" including reductions in taxes and other charges for workers.
"I have understood your message, it is clear," Hollande said in a televised message, acknowledging the sluggish French economy 22 months after his election.
"Not enough change and too much slowness. Not enough jobs and too much unemployment. Not enough social justice and too many taxes... I say it once again: we have to get our country back on the right track."
Speculations on Ayrault's resignation and the cabinet reshuffle had grown stronger throughout Monday especially after the former prime minister acknowledged he and his cabinet bore the blame for Sunday's defeat.
According to preliminary election results of the second round, 155 towns in France have said 'yes' to having their socialist authorities replaced by center-right UMP members, supporters of former President Nicolas Sarkozy.
Hollande's Socialists scored 42 percent of the total vote while UMP won 49 percent of votes, according to an exit poll by survey group BVA showed.
"This is a clear signal from the public and it will be heard, " Ayrault said in a televised statement that followed the announcement of preliminary results.
Finance minister Pierre Moscovici, Foreign Minister Laurent Fabius and Defense Minister Jean-Yves Le Drian are among others whose jobs are on the line.
Ayrault's government was formed in May 2012, following the victory in the presidential elections of the Socialist Party candidate, Francois Hollande. With minor changes, the cabinet was re-appointed in June of the same year after the parliamentary elections. Ayrault's cabinet became the first Socialist government in France for ten years.
Facing low popularity, the Socialists changed their policy earlier this year towards a more pro-business stance aimed at spurring investment and jobs through corporate charge cuts. Hollande has said that his government will push through economic reforms and spending cuts, including a plan to phase out €30 billion in payroll tax on companies in exchange for hiring more workers.
The 51-year-old interior minister due to replace Ayrault has been compared with former British premier, Tony Blair, both for his pro-business ideas and his dashing style. Valls, a Barcelona-born son of Spanish immigrant parents, has suggested pushing for an EU-mandated shift towards pro-market economic reforms and public spending cuts.
Valls has also been compared to former president Sarkozy, a security hardliner in the same ministerial position, for his tough line on crime and Roma migrants.