French police break up anti-Muslim film demonstration, briefly detaining over 100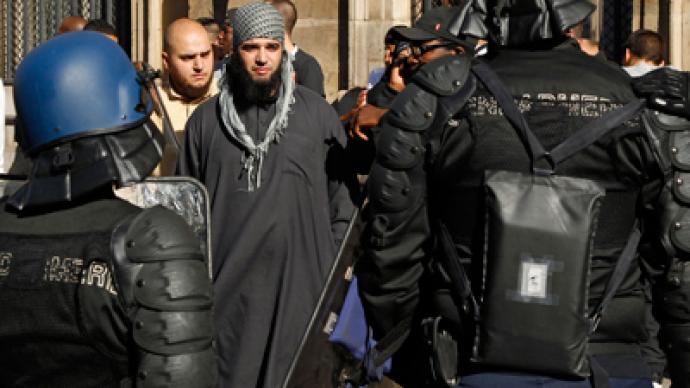 Paris police detained 150 protesters when crowds rallied outside the US embassy against a controversial film that denigrated Islam's prophet. Arrests were also made in neighboring Belgium, with police pepper spraying Muslim protesters.
Muslim protesters, including women and children, answered social media calls to gather at the world-famous Champs-Elysées and pray on the wide, tree-lined sidewalks. Only a small group managed to get close to the American Embassy compound, with most of the protesters unable to penetrate police lines in the Tuileries Gardens.Police had to briefly detain 150 people due to the lack of permit as they dispersed the crowd. Four officers were slightly injured.While in the Belgian city of Antwerp police used pepper spray to disperse around 200 Muslim activists who had gathered in the city center and arrested 120 people. The demonstrators carried black flags associated with Salafi radical Islam and chanted anti-US slogans such as "Obama go to hell." Worldwide anti-US protests began earlier this week when excerpts of the Islamophobic American-made film 'The Innocence of Muslims' were aired on Egyptian television. The incendiary film describes Islam as a "cancer," and portrays Muhammad as, among other things, a child molester.On Tuesday, the US Ambassador to Libya and three US Foreign Service employees were killed in Benghazi. More violence followed, with attacks on the US embassies in Egypt, Yemen, Sudan, Tunisia and many other countries, including other NATO members. Islam is the second-most widely practiced religion in France, observed by an estimated 10 percent of the country, or about six million people, reports French daily Le Figaro.
You can share this story on social media: