French special forces intervene in Niger amid Al-Qaeda attacks
French special forces assisted Nigerien troops in an operation at an army base in Niger to flush out Al-Qaeda-linked militants suspected of a string of deadly attacks Thursday in the West African country.
At least 21 people were killed and dozens more wounded in coordinated car bombings and assaults on a uranium mine run by French company Areva in the town of Arlit, and at a military base in the city of Agadez in northern Niger.

"As I speak, the situation has been brought under control in particular in Agadez, where our special forces have intervened to support Nigerien forces at the request of President [Mahamadou] Issoufou," French Defense Minister Jean-Yves Le Drian told BFM television.

Niger's Defense Minister, Karidjo Mahamadou, told AP that two terrorists had been killed and two hostages – believed to be cadets at the military camp – were released as a result of the offensive, which took place at dawn on Friday.
Earlier that day, French President Francois Holland said that Paris would not tolerate such aggression, and promised to support Niger's effort to "destroy" the Islamist militants:
"We will not intervene in Niger as we did in Mali, but we have the same willingness to cooperate to fight against terrorism," he said.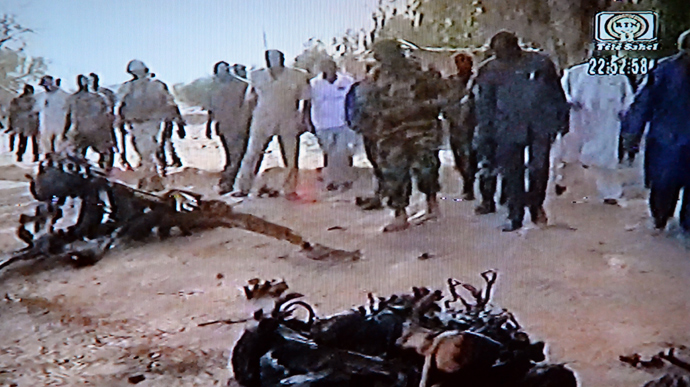 The same Al-Qaeda-linked militant group responsible for a raid that killed at least 39 foreign hostages at the In Amenas gas plant in Algeria in January, also claimed it participated in the Niger assaults, Reuters reported.
The group posted a statement on the Internet on Friday, claiming the bombings were a response to Niger's participation in French operations in neighboring Mali, as well as claims by Nigerien President Issoufou that the Islamists had been defeated.
The message was signed by Khalid Abu al-Abbas, better known as Mokhtar Belmokhtar, a leading figure in Al-Qaeda in the Islamic Maghreb (AQIM).
"This is the first of our responses to the statement of the president of Niger – from his masters in Paris – that he eliminated jihad and the mujahedeen militarily," the statement said.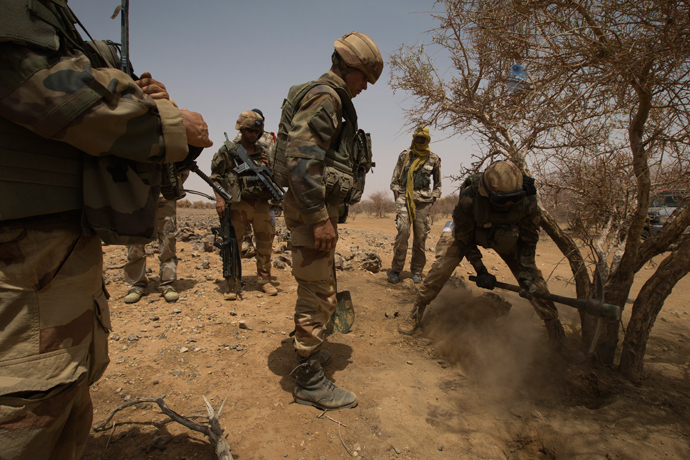 "We will have more operations, by the strength and power of Allah, and not only that, but we will move the battle to the inside of his country if he doesn't withdraw his mercenary army." During Thursday's attack, Belmokhtar's 'Signatories in Blood' jihadist group joined forces with fighters from the Movement for Oneness and Jihad in West Africa (MUJWA), which has already claimed responsibility for the Niger attacks.
The two organizations have promised to strike at French interests in western Africa after Paris launched a military campaign in January that ended the Islamists' 10-month control over the northern two-thirds of Mali.
Paris initially claimed it was only planning a short-term military operation in Mali, but later announced that 1,000 soldiers would remain in the country for an indefinite period of time to help rebuild.
Keeping Africa under the colonial rule

Investigative journalist Michel Collon told RT that there are economic and political reasons behind France's actions in the region, as Paris and Washington want to "keep Africa under the colonial rule".

"Actually, one cannot understand the strategy of France or the US without understanding that they want to control Mali, Niger and the countries like Algeria, that they want to prevent the formation of unity in Africa, that they want to prevent the formation of alliance between the BRICS countries and the African economies," Collon said.
Afshin Rattansi, journalist and RT contributor, says that rather than simply thwarting terrorist elements French intervention in the country is also due to protecting the interests of a uranium mine in northern Niger run by French nuclear reactor maker Areva. That company's Somair mine in northern Niger, near Arlit, was attacked on Thursday.

"All governments are jumping on this 'Islamist bandwagon' as if wanting to interfere more in these areas of, let's face it, neo-colonial drawn borders of these areas," says Rattansi, who does not think it is altogether clear that violence in that region is linked to islamists.

"Whatever is happening in these areas, there is a scramble for this uranium, and these companies are earning vast fortunes, the peoples of these areas are not getting it. China is going to send, according to UN diplomats, their largest peace-keeping force that they've ever sent as part of the UN peacekeeper deal," added Rattansi.