French magazine sparks another controversy over Mohammed cartoons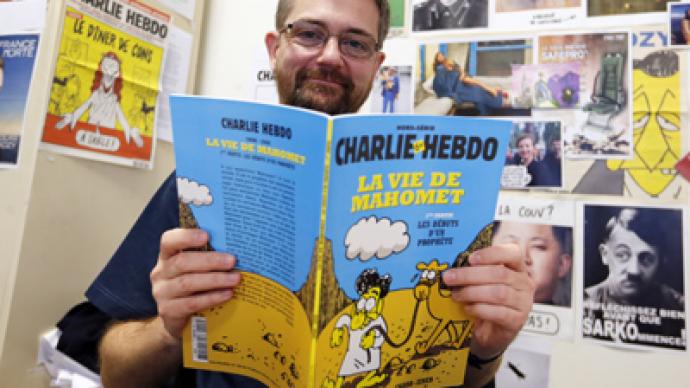 A French satire magazine has published a special issue containing cartoons on the life of Islam's Prophet Mohammed. Similar images, which are deemed blasphemous by Muslims, have sparked international protest in the past.
Followers of Islam believe that Mohammed cannot be captured in an image by human hand, and that to attempt to do so is an insult to Allah.
But the publisher of Charlie Hebdo magazine said the 64-page issue, titled 'The Life of Mohammed,' is "halal" because it was researched and edited by Muslim scholars and historians.
"It is a biography authorized by Islam since it was edited by Muslims…I don't think higher Muslims could find anything inappropriate," publisher Stephane Charbonnier told AFP.
The response has been largely muted so far, though many Twitter users have criticized the magazine, claiming the cartoons were an attempt to provoke unrest.
#CharlieHebdo is reopening a can of worms: publishing a comic with illustrations about the Prophet Muhammad PBUH. I wish they leave it alone

— Hamna (@hamna_) January 2, 2013
#CharlieHebdo at it again, No Matter what they Claims this is a deliberate effort to Create Chaos #Blasphemystream.aljazeera.com/story/20121231…

— Mahwish ZK (@MahwishKD) January 1, 2013
The French government has also spoken out against the cartoons: "There is no necessity to pour oil on fire," spokesperson Najat Vallaud-Belkacem told France 2.The Turkish government condemned the publication as a "mistake.""To transform the life of the prophet of Islam into a cartoon is in itself a mistake," Ibrahim Kalin, senior political advisor to Turkish Prime Minister Recep Tayyip Erdogan, wrote on Twitter. "Whatever the people at Charlie Hebdo say, this is a provocation."The magazine has remained unapologetic, and insisted the cartoons are educational in nature."Before having a laugh about a character, it's better to know him. As much as we know about the life of Jesus, we know nothing about Muhammad," Charbonnier said.But if history is any indication, Charbonnier – who has received death threats and lives under police protection – may soon be the target of renewed anger from Muslims who refuse to accept the cartoons as "educational literature." 
When cartoons lead to chaos
Charlie Hebdo is no stranger to controversy related to Islam. In September, the magazine published nude cartoons of the Prophet Mohammed, sparking worldwide protests and forcing French embassies and schools to temporarily close in 20 countries.The French government condemned the publication as being needlessly provocative. In 2011, the magazine's Paris office was firebombed after it named the Prophet Mohammed as 'editor-in-chief' of a weekly issue titled 'Charia Hebdo.' A large blaze ensued, destroying the majority of the building's interior.
Innocence of Muslims
Any depiction of the Prophet Mohammed is a highly sensitive subject. In September, worldwide protests took place against 'Innocence of Muslims,' an amateur film that mocked the Prophet. Demonstrations against the film began after its trailer was released on YouTube.  The first protest occurred in Cairo, with more than 3,000 demonstrators gathering in front of the US embassy. Around a dozen men scaled the embassy walls, tearing down the US flag and replacing it with an Islamist flag. Protesters wrote "There is not God but Allah" on the compound's walls. Worldwide protests against the film soon followed, resulting in over 70 deaths as demonstrators attacked US embassies throughout the Arab world and beyond.
You can share this story on social media: