French consumer rights watchdog sues Google, Facebook, Twitter for privacy violations
Published time: 25 Mar, 2014 18:06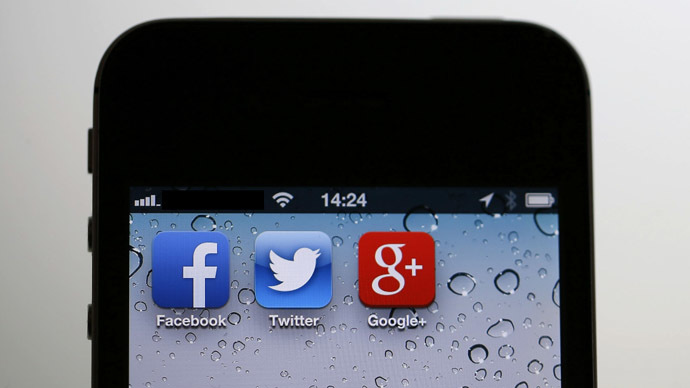 France's top consumer rights group has filed a lawsuit in a Paris court against Google+, Facebook and Twitter, accusing the social networks of violating the country's privacy laws.
UFC-Que Choisir – a group which advises consumers on products, services and their rights – said it was filing a suit in the High Court over "abusive" and "illegal" practices in the conditions of use on the three social networks, AFP reported Tuesday.
The consumers' group said that last summer they warned the companies that they would bring legal action in case they did not address concerns over terms of use and data-collection practices. However, "they are stubbornly maintaining clauses that the association considers abusive or illegal," the group was reported as saying.
UFC-Que Choisir asked the court to order Google+, Facebook and Twitter to get rid of or change the fine print on their terms of use since, they believe, it is far too complicated. According to the organization, the instructions were "inaccessible, unreadable and full of hypertext links" – some of which are available only in English.
The watchdog claimed that the social networks "persist in authorizing the widespread collection, modification, preservation and use of the data of users and even of those around them."
"Faced with such abuses" UFC-Que Choisir appealed to French judges, asking them to "order the suppression or modification of the myriad of contentious clauses imposed by these companies."
Earlier this year, French data protection watchdog CNIL fined Google 150,000 euros ($204,000) for ignoring its three-month deadline to align its practice of tracking and storing user information with the country's law. CNIL said the US-owned Internet giant did not sufficiently inform its users about the conditions under which their personal data was processed and the purposes of the processing.
In December, Spain fined Google 900,000 euros ($1.24 million) for breaking data protection laws. The Netherlands also accused the company of privacy violations. Several other European data watchdogs have investigated Google's privacy policy.
The moves reflected growing concerns among Europeans over the possibility of their privacy rights violations after Google unilaterally introduced in March 2012 new terms of service on users of all its cloud services, including YouTube, Gmail and the Google search engine.