Foxconn fisticuffs: 2,000 brawl in Chinese factory dorm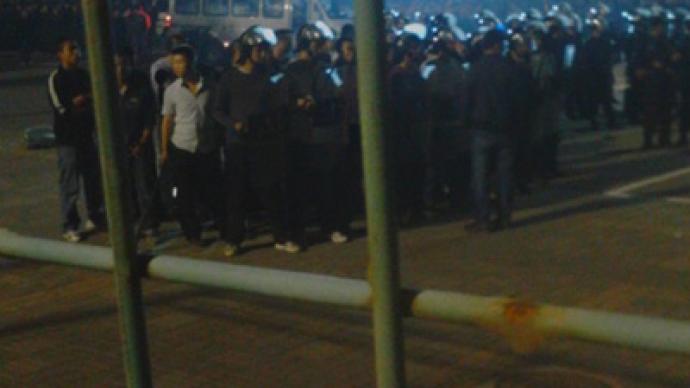 Forty workers were injured in a massive brawl involving 2,000 workers for technology manufacturer Foxconn. Foxconn, one of the makers of Apple's iPhone, has closed its plant in northern China to investigate the incident in a dormitory last night.
Around 5,000 police officers were dispatched to the scene to bring the riot under control late Sunday night, said police as quoted by state-run Xinhua News Agency. By morning, calm had been restored as 40 people were taken to hospital and a number were arrested.Foxconn released a statement saying the Taiyuan plant would be closed pending further investigation into the cause of the violence. Photos that appeared on the Chinese microblogging website Sina Weibo showed considerable damage at the dormitory before the shots were taken down; the photos included blurry mobs in clashes with riot police, demolished structures, and shattered windows. Foxconn's press release said that the incident did not appear to be work-related, but conflicting reports have emerged on internet blog sites. One reports cites a Foxconn statement that claims that there was "a fight among workers from different production lines," while other sources have reported that the incident may have been precipitated by a security officer beating an employee.
Rescuers attempt to put out a fire at a plant belonging to Apple Inc supplier Foxconn Group in the city of Yantai, Shandong province, eastern China in this September 27, 2011 still image taken from video (Reuters / Reuters TV)It is unclear when the Taiyuan plant, which employs some 79,000 people, is scheduled to reopen. The closure could last two or three days. Foxconn would not comment on whether or not the plant is involved in iPhone 5 production, but an employee confirmed to Reuters that the plant makes parts for and assembles the iPhone 5.Taiwanese-owned Foxconn is one of China's largest employers, with 1.2 million workers nationwide in factories that have come under scrutiny for possible human rights violations in recent years. The company is not only involved with the production and assembly of the iPhone, but also produces electronics and components for Hewlett-Packard, Microsoft, and automobile electronics. The same factory site was at the center of a worker's strike in March, when employees demanded higher wages and better conditions. Apple hired an auditor the same month and found that Foxconn regularly made its workers toil for 60 hours a week.
(Reuters / Reuters TV)In June, about 100 workers rioted at the Foxconn plant in Chengdu, the site of a massive explosion a year earlier in may 2011. The company was also plagued by a string of worker suicides at its Shenzhen plant in 2010. In August 2012, the company raised wages by 16 per cent at its Zhengzhou plant in an attempt to improve working conditions and attract new employees. Foxconn has been steadily hiking its wages in an attempt to combat accusations of worker mistreatment.Foxconn announced last week it was on the verge of signing an investment agreement with Sao Paulo to spend US$500 million on a new factory and facilities in Brazil.
Smoke rises as police and onlookers stand near at a Foxconn factory in Chengdu, Sichuan province, May 20, 2011 in this still image taken from a video grab. Apple Inc is investigating an explosion that killed two people, injured 16 and forced a production halt at a Foxconn International Holdings Ltd factory in China said to produce the popular iPad (Reuters / Reuters TV)