​Israel, Turkey may sign compensation deal over Gaza flotilla deaths after March election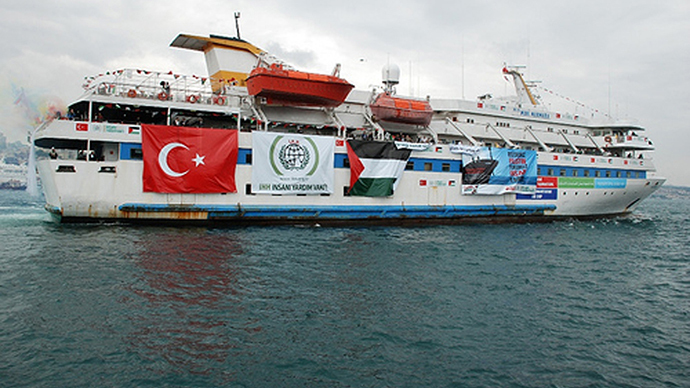 Israel and Turkey may sign a compensation deal for families of the Turkish victims of the Israeli raid on a Gaza aid flotilla in 2010. The agreement will finally put an end to the bitter diplomatic crisis caused by the assault.
Following months of negotiations, the agreement is likely to be signed after Turkey's local elections on March 30, Deputy Prime Minister Bulent Arinc told Turkish Hurriyet daily on Tuesday.
"We have received a final agreement document from Israel," he was quoted as saying. After the elections, "our first job will be making sure the compensation is bound by a legal document."
The final text of the reconciliation agreement on the sum of the compensation was actually submitted by Israel last month, Arinc said. Now it is awaiting a re-evaluation by the Turkish government. It would then require an approval by the parliament.
After the deal is signed, diplomatic ties will be fully restored and the sides could immediately start the process of assigning ambassadors to Israel and Turkey respectively. Ankara recalled its ambassador from Israel and expelled the head of the Israeli diplomatic mission from the country over the flotilla incident and Israel's refusal to apologize. Turkey also froze military cooperation with its former ally.
In May 2010, Turkish vessel the Mavi Marmara was on its way from Turkey to the Gaza Strip when it was intercepted by the Israeli Navy. The ship was part of a flotilla that was attempting to break an Israeli naval blockade of Gaza. As a result of the incident, nine Turkish activists aboard the vessel were killed.
In March last year, Israeli Prime Minister Binyamin Netanyahu apologized to his Turkish counterpart Recep Tayyip Erdogan in a phone call and offered compensation to the families of the killed activists and those wounded in the raid. The apology, revealed by Washington, was accepted and the sides agreed on the need to normalize the relationship. However, the sides could not come to a compromise on the sum of the payments.
In February Haaretz daily reported that Israel offered Turkey US $20 million, while initially Ankara had demanded US$ 30 million in compensation. The final monetary amount to be delivered by Israel is not known.