Fluffy wonder: First ever liliger born in Siberia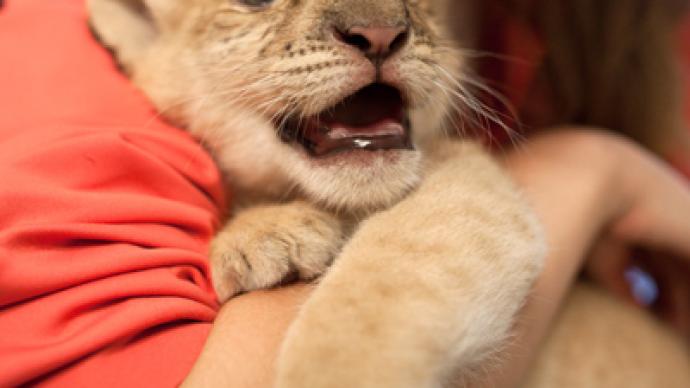 The world's first liliger has been born in a Siberian zoo. Her father is an African lion, her mother is a cross between a tiger and a lion, and she herself is a little cutie with tiger stripes on her forehead.
The cub, named Kiara, was born in late August in a zoo in the Russian city of Novosibirsk. Her mother, a liger called Zita, took care of her at first, but vets had to take the cub away as Zita did not have enough milk to feed her.The cub was not left alone for long though, as it was quickly adopted by a household cat.Despite early problems Kiara has been deemed healthy and according to zoo specialists is starting to "grow and develop." Zoo visitors should be able to see the wonder cub in October.Roza Solovyova, who is looking after the little liliger says she will probably have more tiger's features than lion's. However, at the moment Kiara looks more like a lion cub, only with tiger stripes on her head.Scientists wonder if Kiara will be able to reproduce when fully grown. Most hybrid species are unable to reproduce. When it comes to ligers, females are able to give birth, while males are sterile, a Novosibirsk zoo specialist said.
You can share this story on social media: