Russia's first legal casino opens in Azov City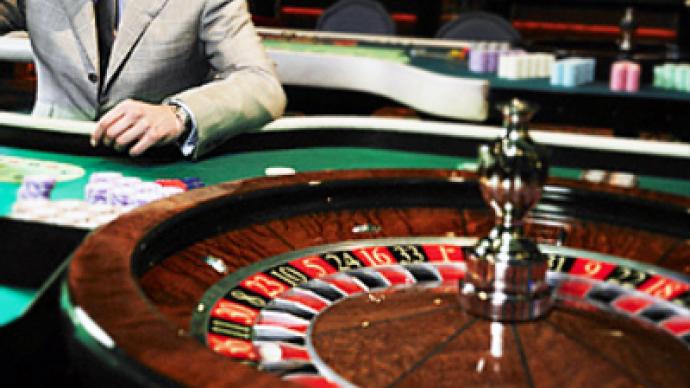 After a ban on gambling outside special areas, the first legal casino opened Saturday in the southern Krasnodar region.
The president of the Kazan-based Royal Time Company, Rashid Taimasov, received an official document allowing his company to carry out gambling activities at the Casino "Oracle" in Azov City.
The interior of the casino is designed in golden hues. The walls are draped to separate recreational areas from gambling tables. There are more than 200 slot machines and ten gambling tables in the casino, occupying an area of 1,500 squire metres on the Azov Sea coast located at the border between the Krasnodar region and the Rostov region.
Royal Time Company is planning to invest from four to four and a half billion roubles ($150 mln) in the development of the gambling business within the next three to four years.
"Oracle will be the central facility in a future resort area which, apart from the casino, will have an aqua park and other entertainment spots," said Rashid Taimasov. "A cottage settlement for comfortable accommodation of our guests may be built in the future."
The regional authorities are planning to implement the Azov City project in several stages. At the moment, 150 hectares of land around the Molchanovka farmstead are being developed.
The territory is divided into 20 land plots with an area from 2 to 21 hectares. They are being offered to investors on long-term lease contracts. Four land plots in Azov City don't have an investor. An auction is scheduled for mid-February.
The absence of hotels in Azov City remains a big problem. In the beginning, guests will have to be accommodated in a hotel in neighbouring villages and towns. Buses will bring gamblers from Rostov-on-Don (100 km) and Krasnodar (250 km) free of charge. Taxis will be arranged for VIP guests.
"At first, only the authorities believed that Azov City would work. Now, investors also have this confidence. However, some of them are still unprepared to undertake commitments and open their facilities on time," said Aleksey Agafonov, the vice-governor of the Krasnodar region. "But if everything goes according to plan, Azov City will earn about 200 billion Roubles in taxes by 2022."
A federal law on state regulation of gambling activities came into force in Russia on January 1, 2007. The law provides for the creation of four gambling zones where gambling enterprises can be set up: in the Kaliningrad region, the Altai region, the Primoyre in the Far East as well as between the Rostov region and the Krasnodar region in southern Russia.
Elsewhere in Russia, gambling has been declared illegal.
You can share this story on social media: