6 months after move, Russia's casinos find little razzamatazz in the regions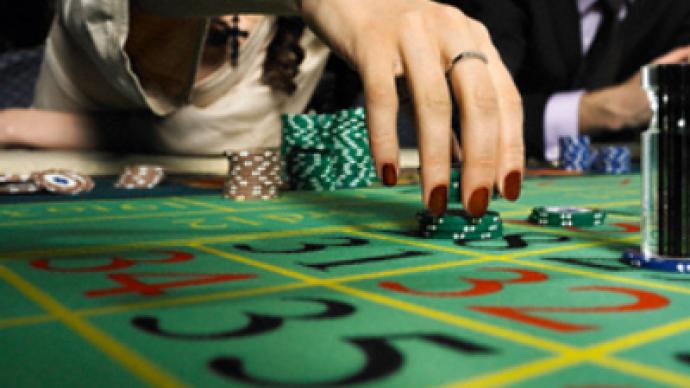 The Russian casino industry, which was moved away from major Russian cities to four remote locations in June this year, is finding life tougher in its new homes.
Russian legislation compulsorily moved Russia's casinos to specific zones located in Russia's far east, the Altai region (near the border with China) the Kaliningrad region and Russia's south midway through 2009. For cities like Moscow and St Petersburg which had become home to a major casino industry over the preceding decade the move brought about major changes.
Business RT spoke with Sergey Ballo from the Association of gambling business representatives about the impact on the gambling industry.
RT: What changes have taken place in Russia´s gambling industry in the half year since June 1?
SB: "Many of the gambling proprietors shifted their businesses abroad, where the economic environment is much better, with sufficient governmental support and developed infrastructure. Those who decided to stay in Russia started so-called Junket tours. These are organized group trips for people to gamble in a foreign country, say, in Belarus, Monaco or Czech Republic. Before going on the trip people put a particular amount of money to a special deposit, which includes both traveling and hosting expenses and the money to play. On average the trip lasts for some 3 or 4 days and includes, for example, 4 hours of gambling each day. If a "junket tourist" keeps to his obligations, and regularly visits casinos, then he gets his money back from the deposit after the trip. So, that means that a person pays only for gambling, with a transfer and apartment being free of charge. Otherwise, if he just enjoys the sun and takes his time other than playing in a casino, he's charged for both traveling and living."
RT: Why do people prefer to go gambling abroad?
SB: "This happens because it's much easier and pleasant to pay $300 or $400 and go to, say, Czech Republic, where one can enjoy civilized casinos – not the sort that Russia's game zones offer today. Frankly, I see no future for Russia's gaming zones."
RT: Why?
SB:"Nobody would invest into them, as the risks are too high. No governmental support, no infrastructure and, on top of that, the land rent there expires in 10 years. What's next? Nobody can say. So, it's too risky to put the money into such uncertainty."
RT: How could Russian casinos compare with its foreign counterparts – Las Vegas, for example?
SB: "One can hardly compare them, as Las – Vegas is massively supported by the Government, with all kinds of suport, good roads, hospitals, restaurants, etc. And what do we have in our game zones? Untouched fields and mosquitoes. The decision to make those zones in Russia's outskirts was psychologically wrong, I think."
RT: What economic consequences has the move had in Russia?
SB: "Before the move on June 1 there was a particular number of gambling equipment and tables, which gave a guaranteed tax for the budget. The shift of the casinos took this money away and made about 100 thousand people unemployed. So, the negative effect is obvious."
RT: Has the move created new concealed ways of gambling?
SB: "People will always have the passion for gambling and with this ban they just change the way or the place they do that. As for today, for example, part of the business has moved to the Internet, with on-line games being available for those who go to internet cafes. They are registered as usual internet users, while, in fact, they gamble on-line. Gaming clubs that have recently appeared and started to spread really quickly are another way to bypass the ban. If before there was not a single club of the sort, then today there are about 73 clubs in Moscow, with the number of internet cafes increasing to 100. These are the places where passionate gamblers keep on indulging to their passion.
Imperfect legislation is another reason for the spread of the new concealed ways of gambling. The Federal Law doesn't give a clear definition for a gambling machine, which provides loopholes for potentially illegal operators. Some of them hide real gambling under the wrong definition of lottery, which has much more preferable tax conditions, with stimulating lottery not being taxed at all."
RT: Do you think the move could have been handled differently?
SB: "I think, this reform could have been implemented in a much more smooth way if Russia's Government had discussed it with the businesses. It could be done in a more civilized way, and not that sharply, or the gaming zones could be created somewhere closer to Moscow, where there's better infrastructure and more money circulating."
You can share this story on social media: