Fired journalists go on hunger strike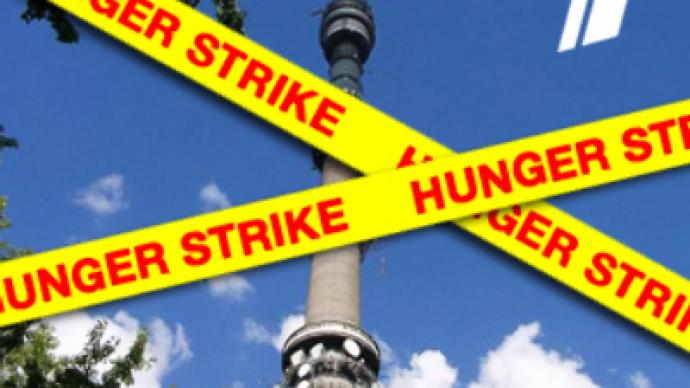 Two correspondents from Russia's Channel One TV network barricaded themselves inside an office in Moscow's TV tower on Wednesday morning after being sacked. Now both men are preparing to continue the battle from home.
Two former correspondents from Russian TV network Channel One locked themselves in one of the offices inside the Ostankino TV Tower on Wednesday morning. Elkhan Mirzoev and Oleg Ptashkin also said they would go on hunger strike after claiming to have been illegally dismissed with no redundancy compensation. Around 20 of their colleagues are said to have found themselves similarly out of work and out of pocket.
"On the 2nd of March 2009 we were informed of our dismissal. The way our labour relations were broke off violates our constitutional and labour rights. The illegitimate actions of our leaders force us to barricade ourselves at our workplace in Ostankino," they said in the news statement.
In the TV Tower
Russian media reported that security service (FSB) forces arrived on the scene by noon and that the journalists threatened to set themselves on fire should officials use force against them. Elkhan Mirzoev dismissed the latter statement during an interview with Infox.ru.
The protesters were eventually made to surrender their 13th floor shelter. According to a phone conversation between Ptashkin with the Gazeta.ru news website, security staff made them leave the room and "were taking" them "somewhere".
Both men were later interrogated by the FSB, reports Life.ru.
Mirzoev and Ptashkin have signed a writ against their employer, as well as writing to President Medvedev, the human rights ombudsman, the State Duma and the Public Chamber of Russian Federation. "We no longer intend to stand and keep silence," they have written.
But not all of their former colleagues approve of their measures, as Life.ru reports. Since early morning, some had tried to dissuade Mirzoev and Ptashkin from their "frantic gesture" via mobile phone.
Battle moves to the home front
Mirzoev, who returned to his house after meeting with Channel One officials, told Infox.ru that he intended to contact his lawyers. "They [Channel One management] accused us of acting on someone's order," he said. "I am going to stay home and go on hunger strike. I have a kitten and a parrot, and I would rather feed them," the journalist added.
Mirzoev said emotions were high during their meeting with the TV network officials and that both sides failed to come to any sort of agreement, reports Newsru.com. The journalist points out that their protest is not over money but attitude, that the channel's administration did not even contact them to inform of dismissal, adding that their case is, by far, not the first. Mirzoev estimates around a hundred of his colleagues lost their jobs at Channel One in a similar way.
Meanwhile, an anonymous Channel One administration source is reported in the Novye Izvestiya newspaper saying Elkhan Mirzoev and Oleg Ptashkin were not entitled to a redundancy payout because both men were on fixed-term contracts and were not full-time members of staff.
You can share this story on social media: