Massive blaze: 4 dead, dozens homeless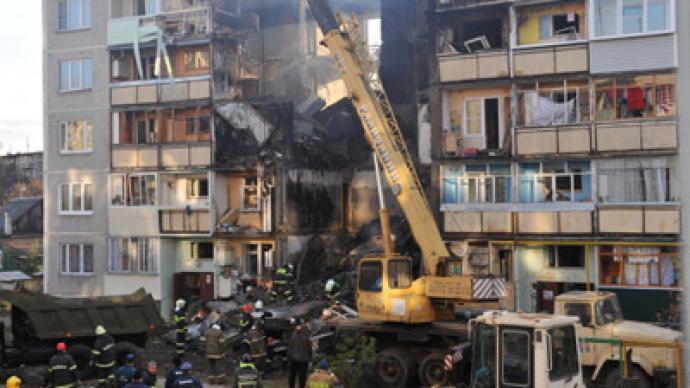 Dozens of apartment block fire survivors have been left without permanent residence in late autumn, as rescue workers recover the fourth body from the debris.
­Though at present they are unable to determine the body's identity, this is the last of the four people that were previously unaccounted for.
Another four tenants are in hospital with various injuries, with the overall number of those who sought medical attention reaching 21. However, most suffered not from burns, but from exacerbation of existing conditions caused by injuries and stress.
The fire broke out in a five-storey apartment block on Monday at 3:45pm Moscow time (11:45 GMT) in the town of Bronnitsy, just southeast of Moscow. Triggered by what is suspected to be a gas explosion on the fourth floor of the building, serious damage resulted.
Overlaps between the third and fourth floors and some of the upper outside walls collapsed, with fire then quickly spreading to some 20 apartments.
The blaze was extinguished in the early hours of Tuesday.
Rescue operations continue on Wednesday, with some 200 emergency workers involved, as well as 60 vehicles, which still have about half of the debris to clear.
Overall the 1987-built complex accommodated about 170 people. Most of them have been taken in by relatives, while others have been given temporary accommodation.
Meanwhile, the Moscow Region Investigative Committee is investigating a case of "causing death due to negligence," its representative told Interfax.