Finnish authorities set to deprive 7 year old of family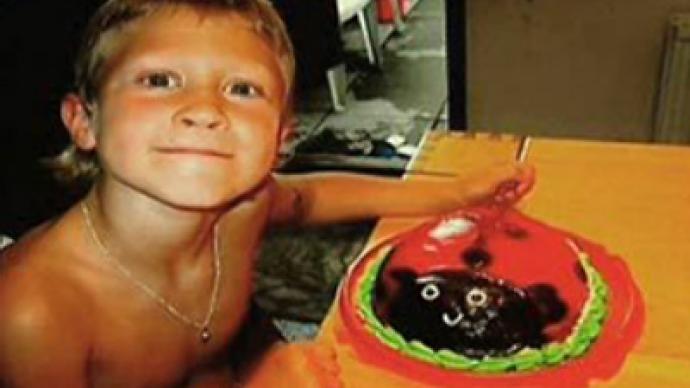 Finnish social authorities decided to transfer the case of 7-year-old Robert Rantala to the court to deprive his parents of their parental rights. Until the case is solved, the boy will stay in an orphanage.
A criminal case was launched against Robert's mother Inga, who is a Russian citizen, accusing her of having allegedly slapped her son.
Inga's local attorney said Tuesday that the authorities have also provided material claiming that the "parents scuffled and three times had an argument over the past year." However, there was no proof Inga and her husband committed major wrongdoings.
"As it's expected, the court hearings can take place in 6-7 months. During this time the mother and father are allowed to visit 7 year old Robert, but separately. Furthermore, they are prohibited to speak Russian with their son. Only the boy's grandmother Lyudmila, who lives in St. Petersburg and boy's school teacher of Russian, will be permitted to speak Russian with the boy," the representative said.
The boy himself is shocked by the situation. He does not understand why he was taken to the orphanage.
"I want to go home to my mom and dad," Robert Rantala told RIA Novosti by phone. The boy was nearly crying.
Inga Rantala is afraid that the social services might give her son antidepressants without parental consent, as she has already been warned.
Now Robert's parents are doing their best to get their child back.
Russian authorities are also working on the issue. Russia's Foreign Ministry and Russia's Ombudsman for Children's Rights, Pavel Astakhov, is personally closely monitoring the case and providing all necessary legal and consul assistance to Inga Rantala.
Sergey Lavrov, Head of Russian Ministry of Foreign Affairs, has sent a personal letter to Foreign Minister of Finland Alexander Stubb, hoping to attract the attention of the country's government, according to the Ministry's official spokesperson, Andrey Nesterenko. The representative also added that the Ministry hoped to persuade the Finnish government to assist the investigation so that a positive decision is made as fast as possible.
"The situation will be discussed during the upcoming visit of the Foreign Minister of Finland to Russia," Nesterenko said. "The Russian Ministry will watch the case closely and stay in touch with the Finnish colleagues."
Rantala has lived in Finland for nearly 10 years. She is married to a Finnish citizen and their son Robert has dual citizenship. After Robert said at school that he was going to go to Russia with his mom, social workers took the boy to an orphanage, fearing another kidnapping case, which are not uncommon in dual-nationality families.
You can share this story on social media: